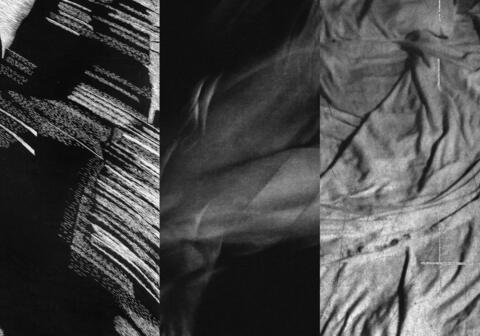 Les états limites: engravings
Guy Langevin / Tracy Templeton / Ariane Fruit
From October 4, 2019 to January 5, 2020
With its Fall 2019 exhibition, the 1700 La Poste is pleased to invite you to discover and learn more about the work of three engravers : Guy Langevin, Tracy Templeton and Ariane Fruit.
Les états limites : gravures shows the productions of these three artists, developed around a poetics view of the body. The selected works, integrating forcefully the concept and the technique, bring subjects inherent to the human condition. The mythological body of Guy Langevin, the social body of Ariane Fruit and the intimate body of Tracy Templeton coexist in this exhibition which aims to highlight engraving as a contemporary artistic technique.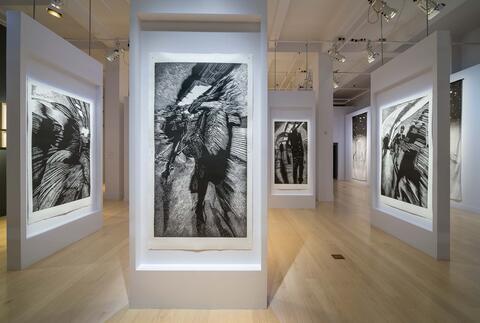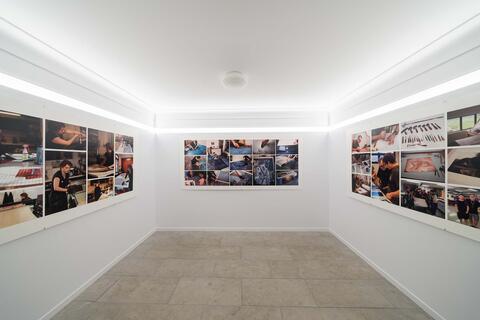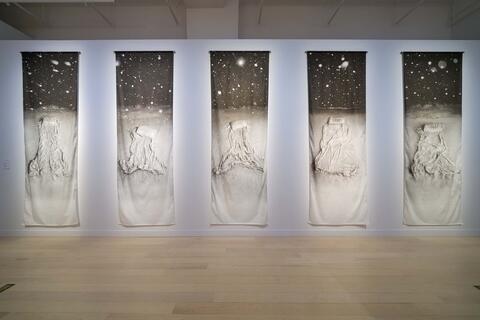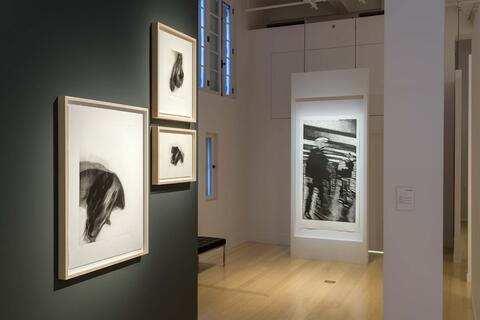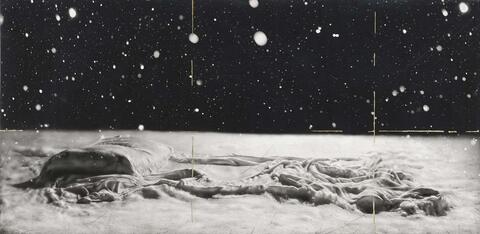 Tracy Templeton, From Ground to Sky Above, 2018, Impression numérique, taille-douce, chine collé et feuille d'or sur papier, 109 cm x 221 cm, Photographie © Guy L'Heureux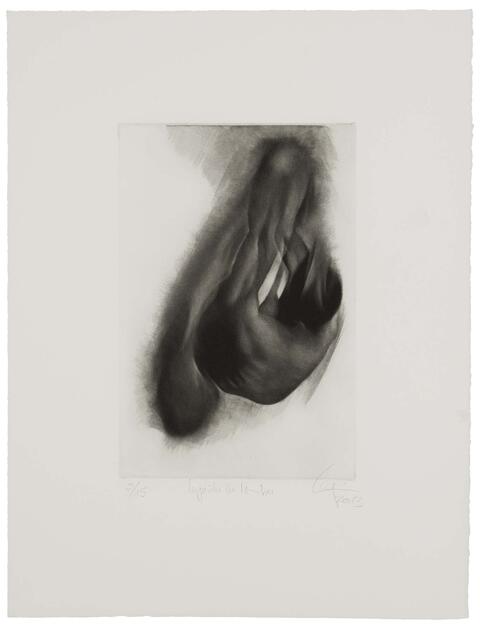 Guy Langevin, Le poids de l'ombre, 2019, Mezzotinte sur papier Hahnemülhe, 51 cm x 39 cm, Photographie © Guy Langevin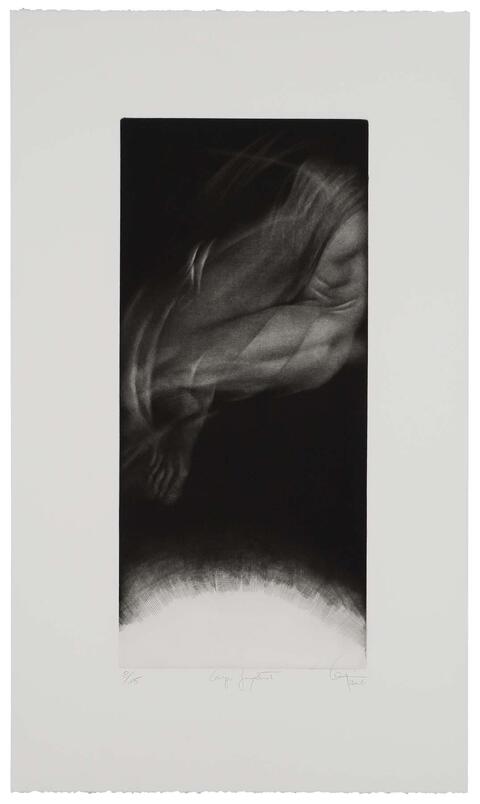 Guy Langevin, Corps Fuyant, 2006, Mezzotinte sur papier Fabriano, 70,5 cm x 42 cm, Photographie © Guy Langevin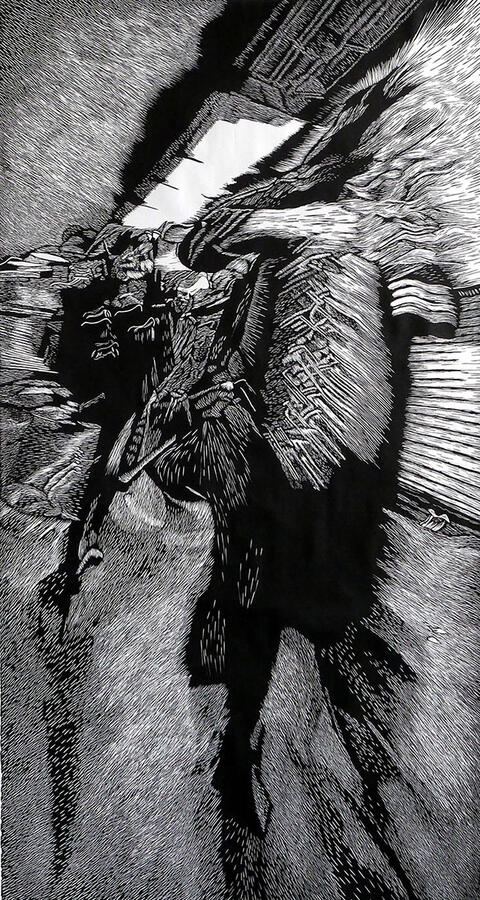 Ariane Fruit, La meute 5, 2014, Linogravure sur papier, 100 cm x 175 cm, Photographie © Laurent Lafuma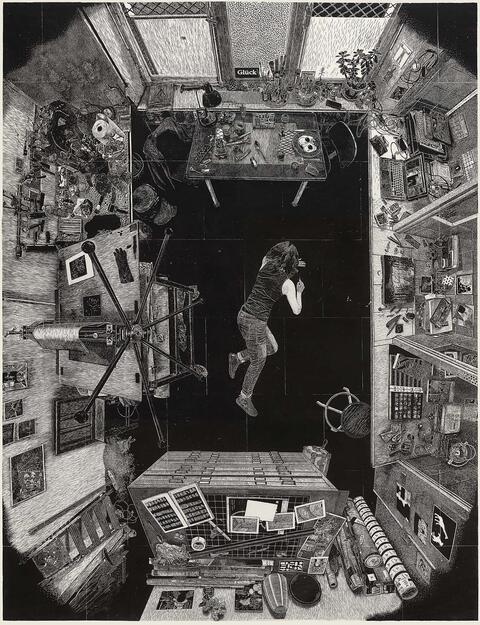 Ariane Fruit, Scène de crime, 2017-2018, Linogravure sur papier, 215 cm x 285 cm, Photographie © Laurent Lafuma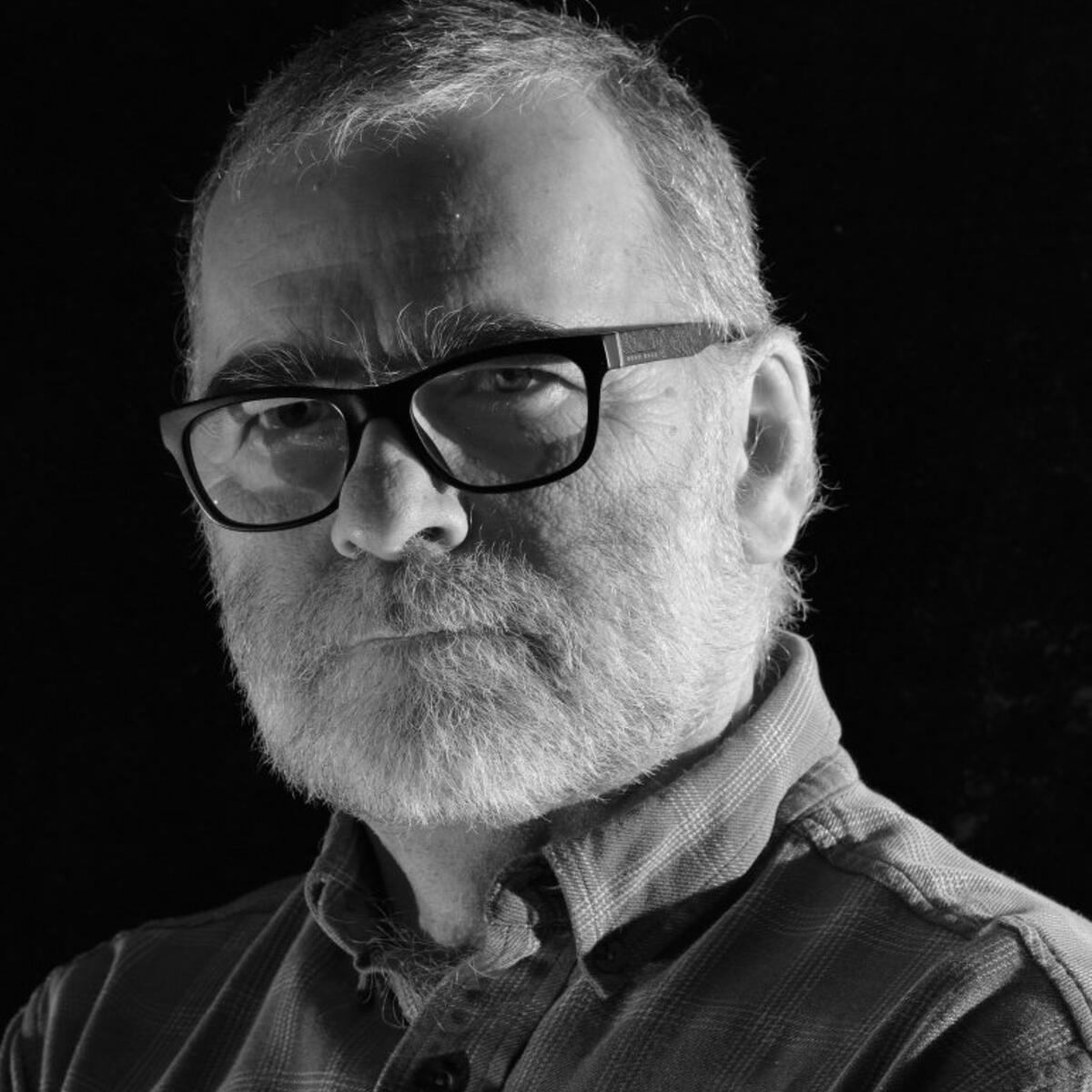 © Guy Langevin
Born in Chicoutimi in 1954, Guy Langevin studied at the Université du Québec in Trois-Rivières, from 1974 to 1977, and immediately began his career as a professional artist. He comes into contact with printmaking and engraving in his early years. Mostly known for his work in mezzotint, he has given several master classes in various countries and has more than sixty individual exhibitions to his credit. He has participated in more than 350 group exhibitions, including his selection in nearly 250 international exhibitions and biennials. His career as engraver has been marked by several awards and honorable mentions. His expertise is sought for several juries, both in Canada and internationally. He has received several grants from various levels of government and has directed more than a dozen artist residencies in several countries, including France, Belgium, the Czech Republic, China and Japan.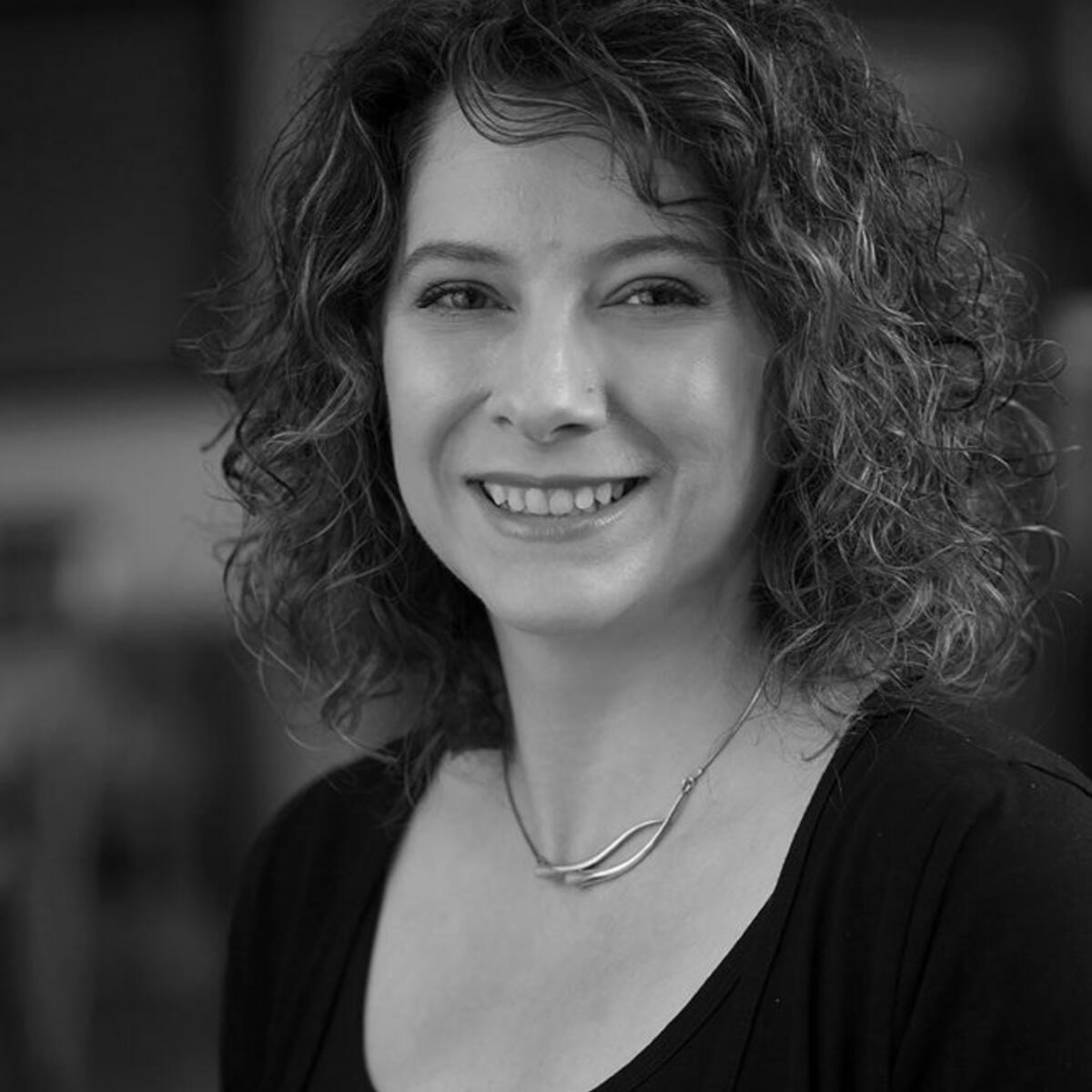 Photo © Ben Timpson
Canadian-born Tracy Templeton was raised in southern Saskatchewan on a small grain farm. Much of her early work chronicles the abandoned rural homesteads that characterize the prairie. Often derived from personal moments of struggle or unfolding change, her work expands from this intimate point of departure to encompass larger cultural issues and commonalities across the human experience. Templeton became the Head of Printmaking at Indiana University in 2013. Previously, she taught at Southern Oregon University, the University of Alberta, the University of Regina, and Illinois State University. Her work has been widely exhibited across the United States and throughout the world, including more than 150 exhibitions in such countries as Canada, Mexico, England, France, Germany, Italy, Turkey, Egypt, China, Bulgaria, Poland, Russia, Japan, Malaysia, and South Korea. Templeton won Honorary Mention at the Seoul Print Biennial and third place in the Great Canadian Printmaking Competition in addition to being awarded numerous artist grants.
Specializing in photographic etching, she has lectured extensively on the technique and her artwork at such institutions as Warsaw Academy of Art in Poland; Anchor Graphics, Chicago; University of Tennessee, Knoxville; Kansas City Art Institute; Lane Community College in Oregon; and Duke University. Templeton earned her MFA from the University of Alberta and her BFA from the University of Regina, where she graduated with Distinction and The Riddell Award in Fine Arts. Her prints appear in more than thirty different collections worldwide, and her work has been published in more than sixty different books, magazines, catalogs, and journals.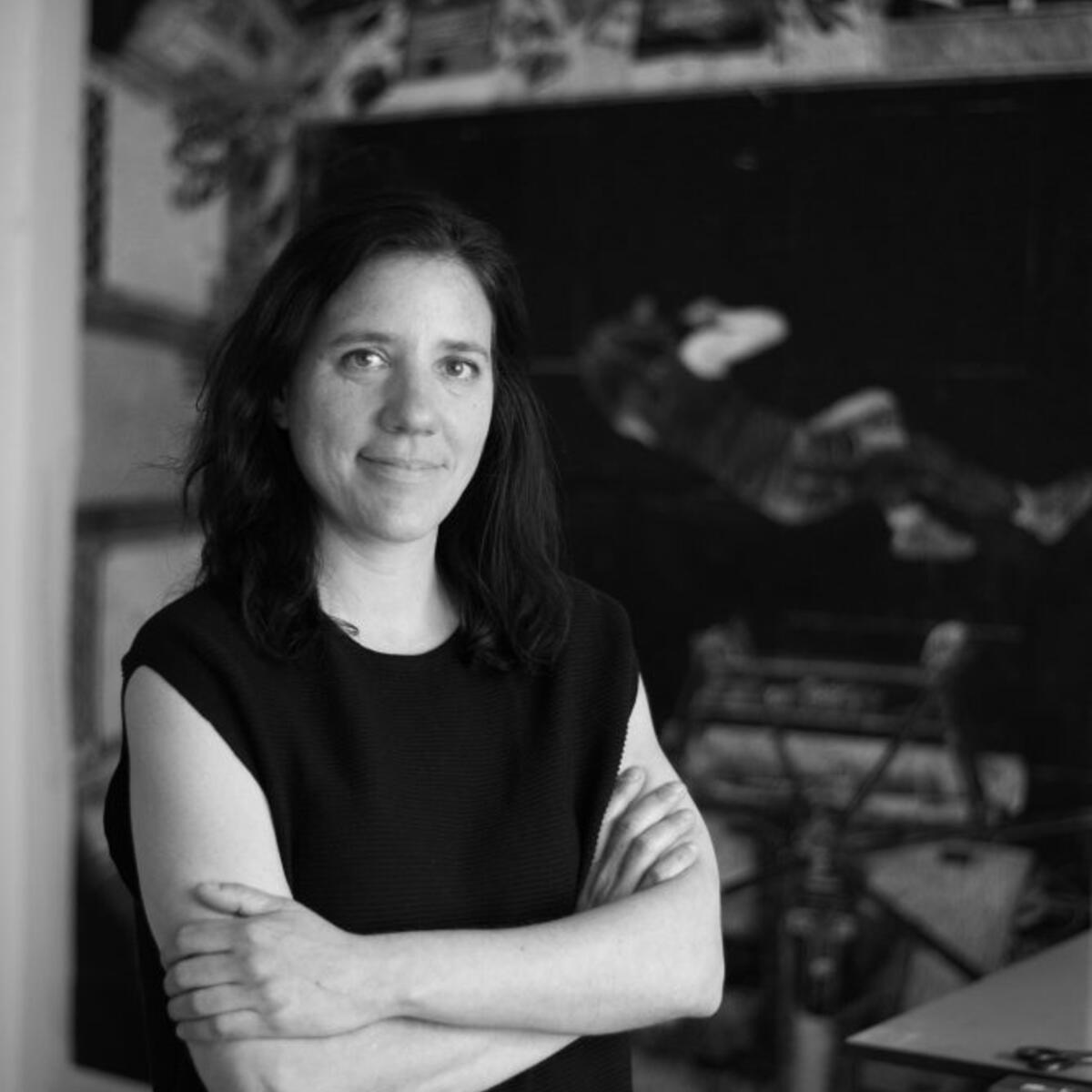 Photo © Laurent Lapfuma
Born in 1975 in Rouen, Ariane Fruit first focuses on her drawing practice before shifting towards photography. In 2000, she receives a laboratory photography degree from the École des Gobelins in Paris. A few years later, she discovers engraving and experiments with many estamping techniques. This allows her to reinterpret her photography work, as captured with the help of precise devices. She notably explores the theme of the city through several series on public transportation and wastelands. She has been awarded many distinctions, including the GRAViX prize in 2017 for her linocut series La meute. Since 2013, she works in a collective workshop in the Goutte-D'Or neighborhood in Paris.
Publication
Les Éditions de Mévius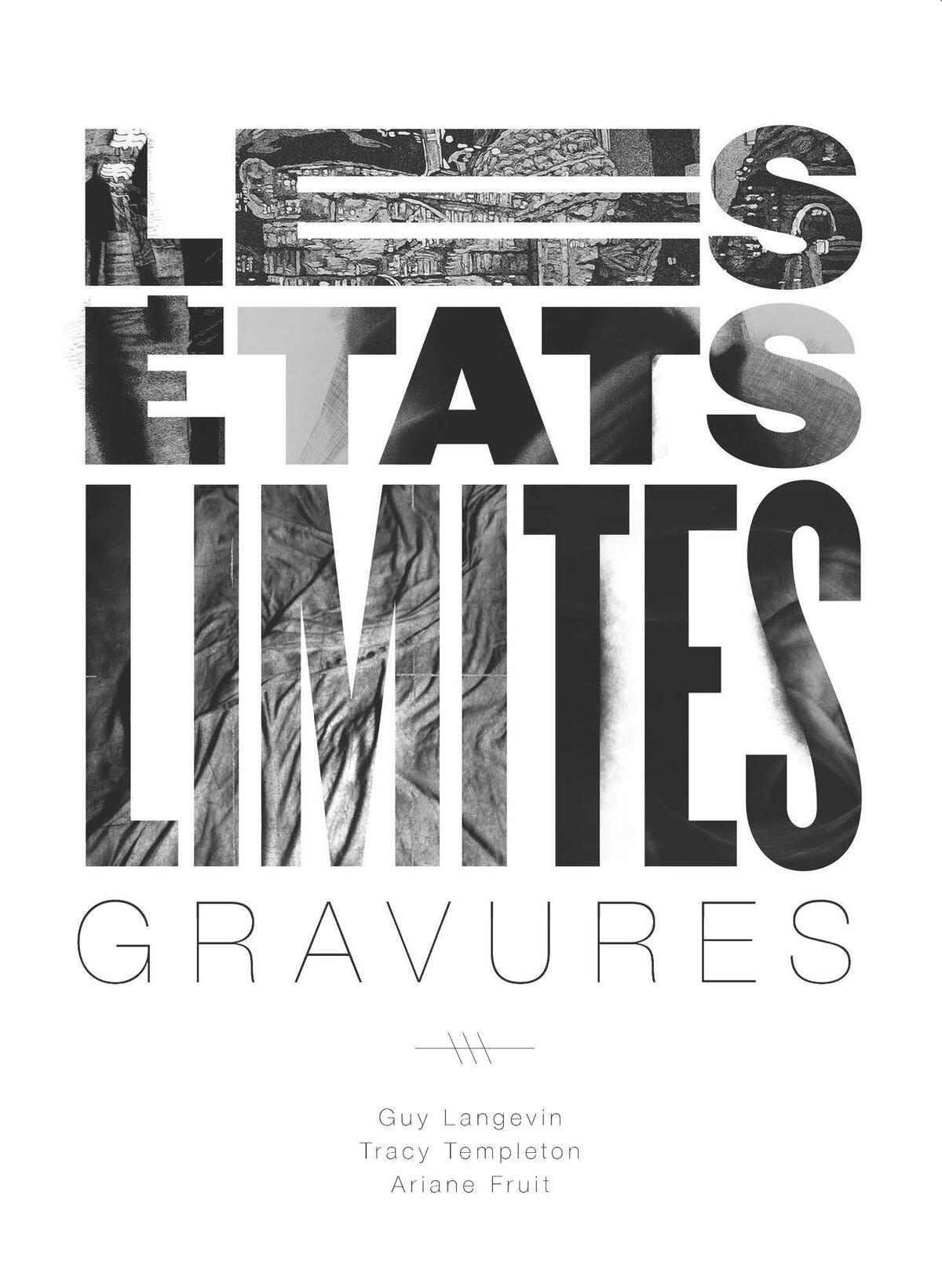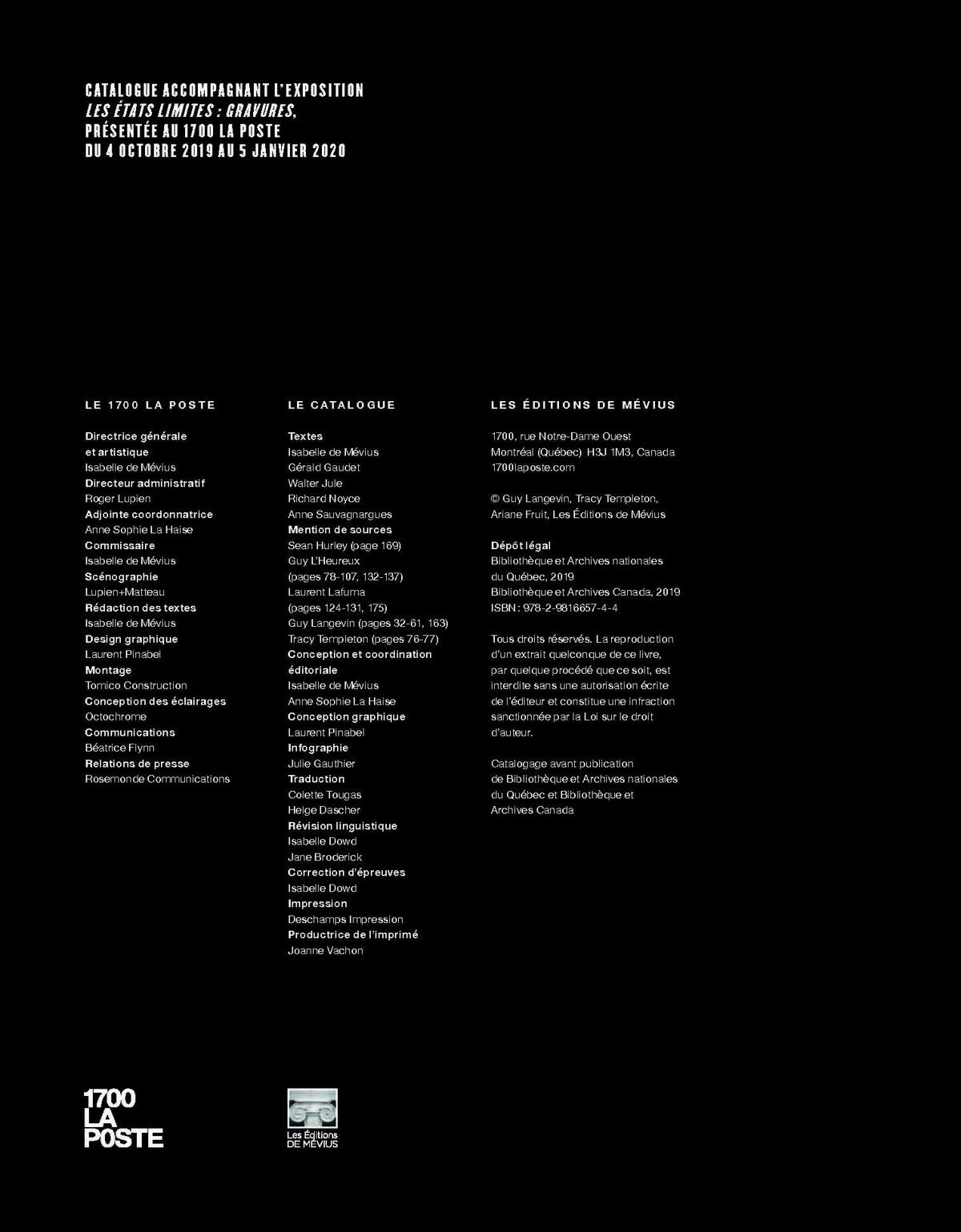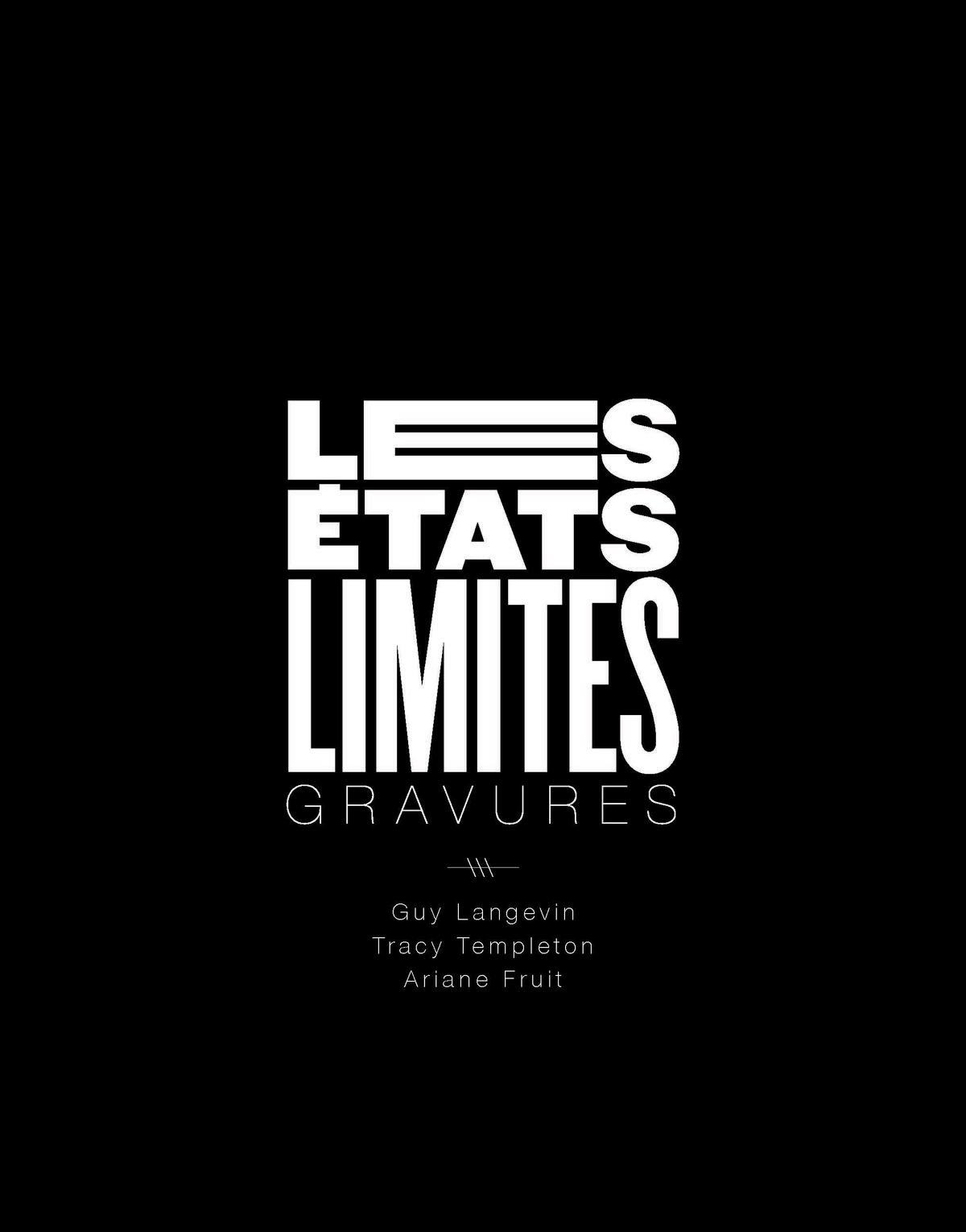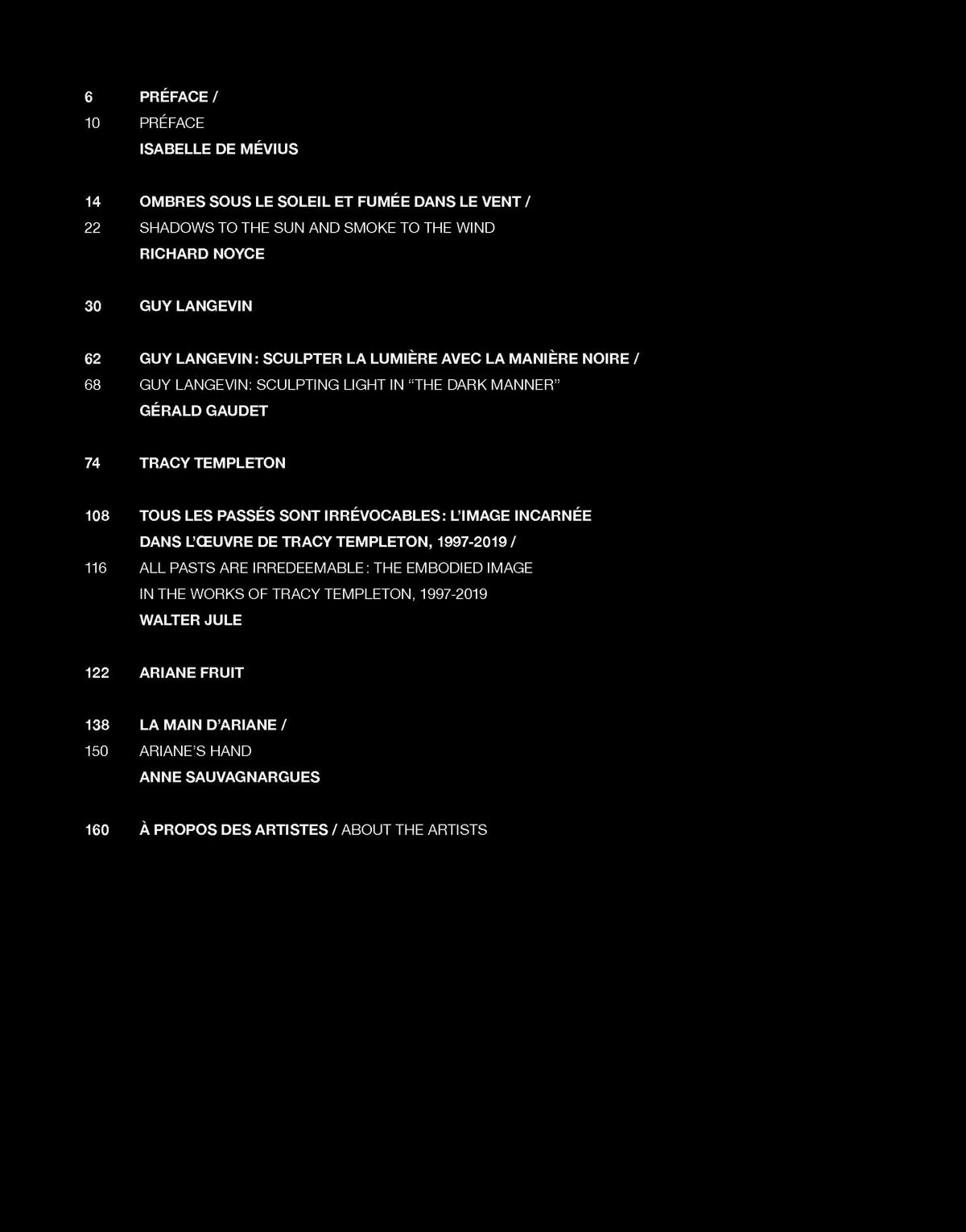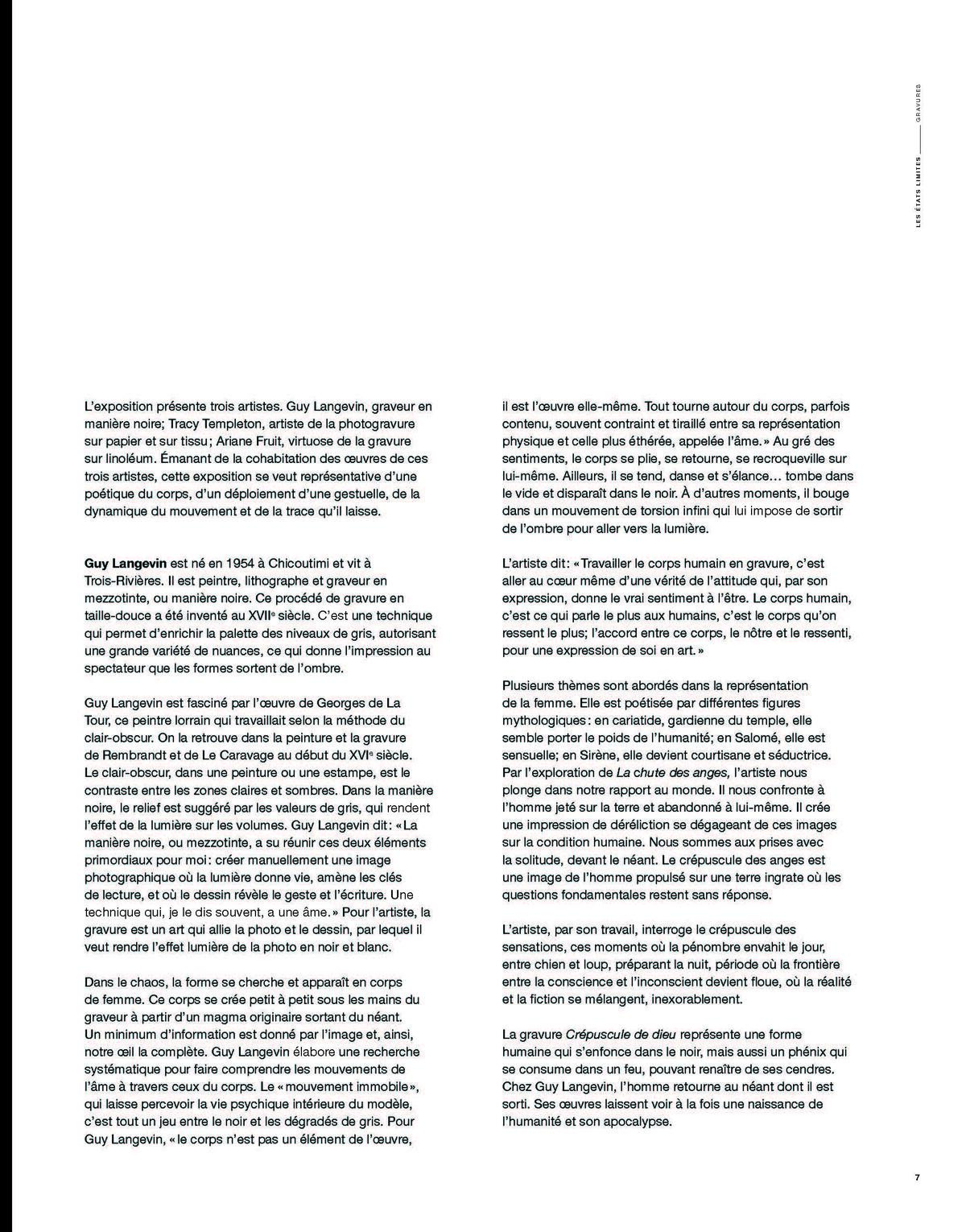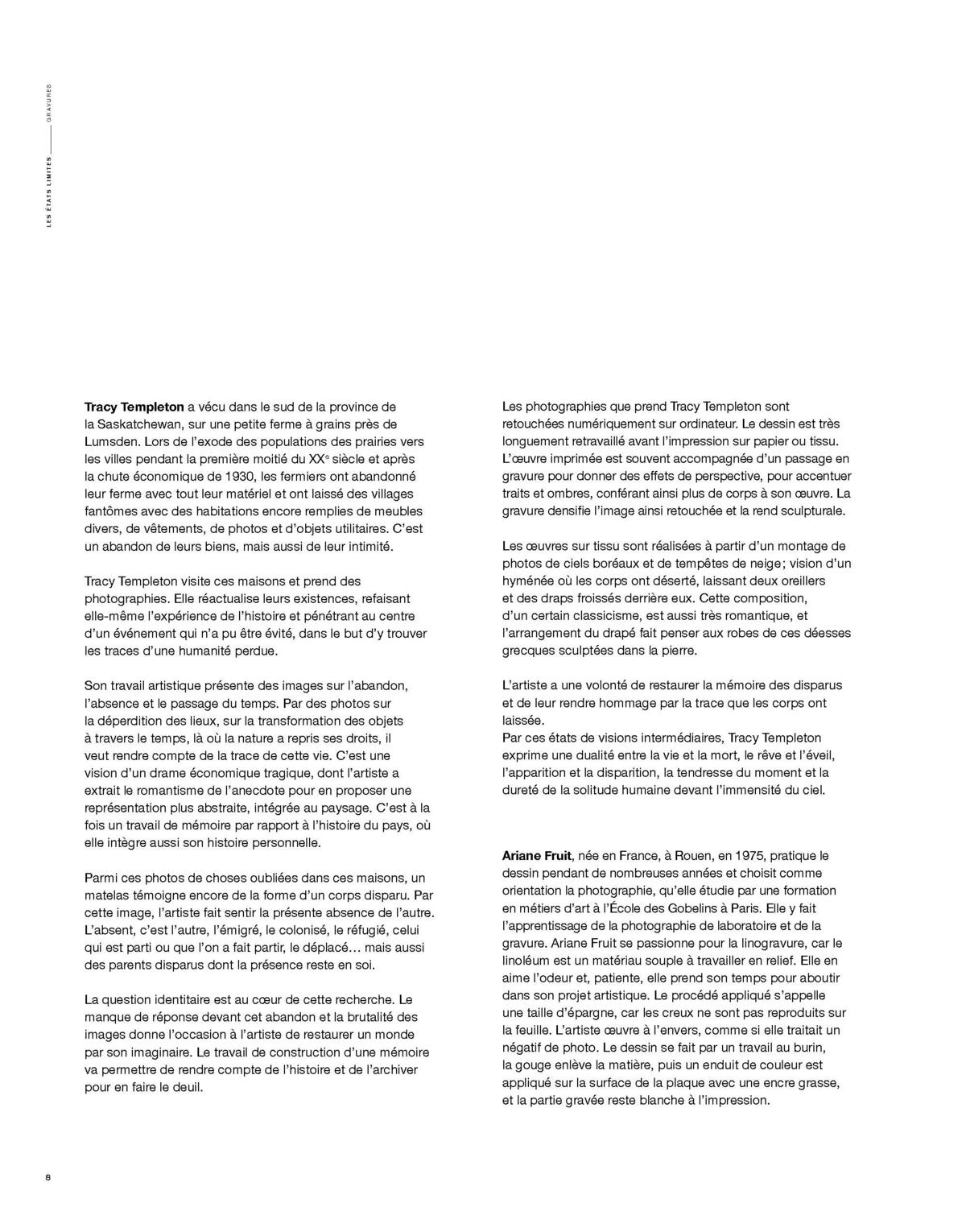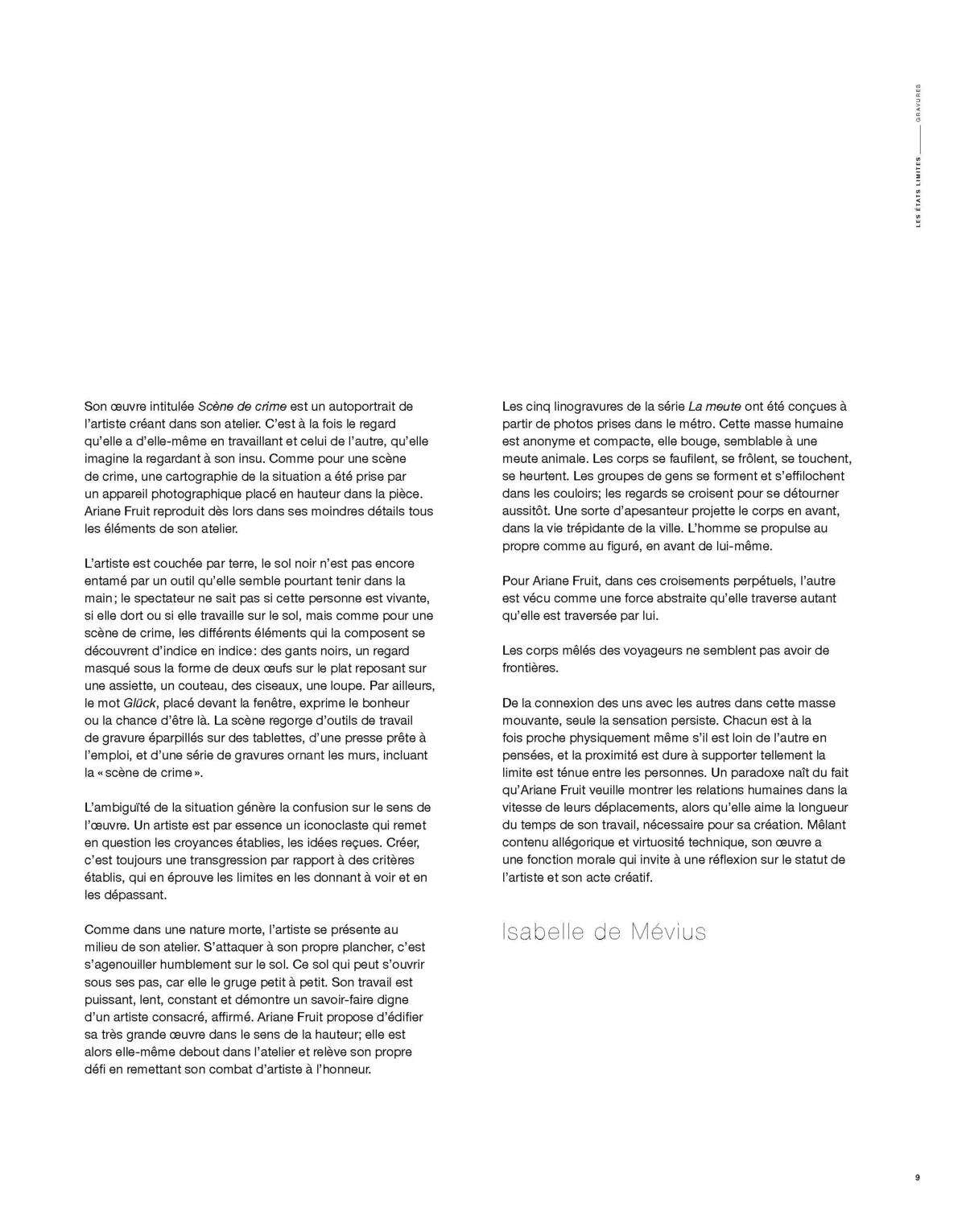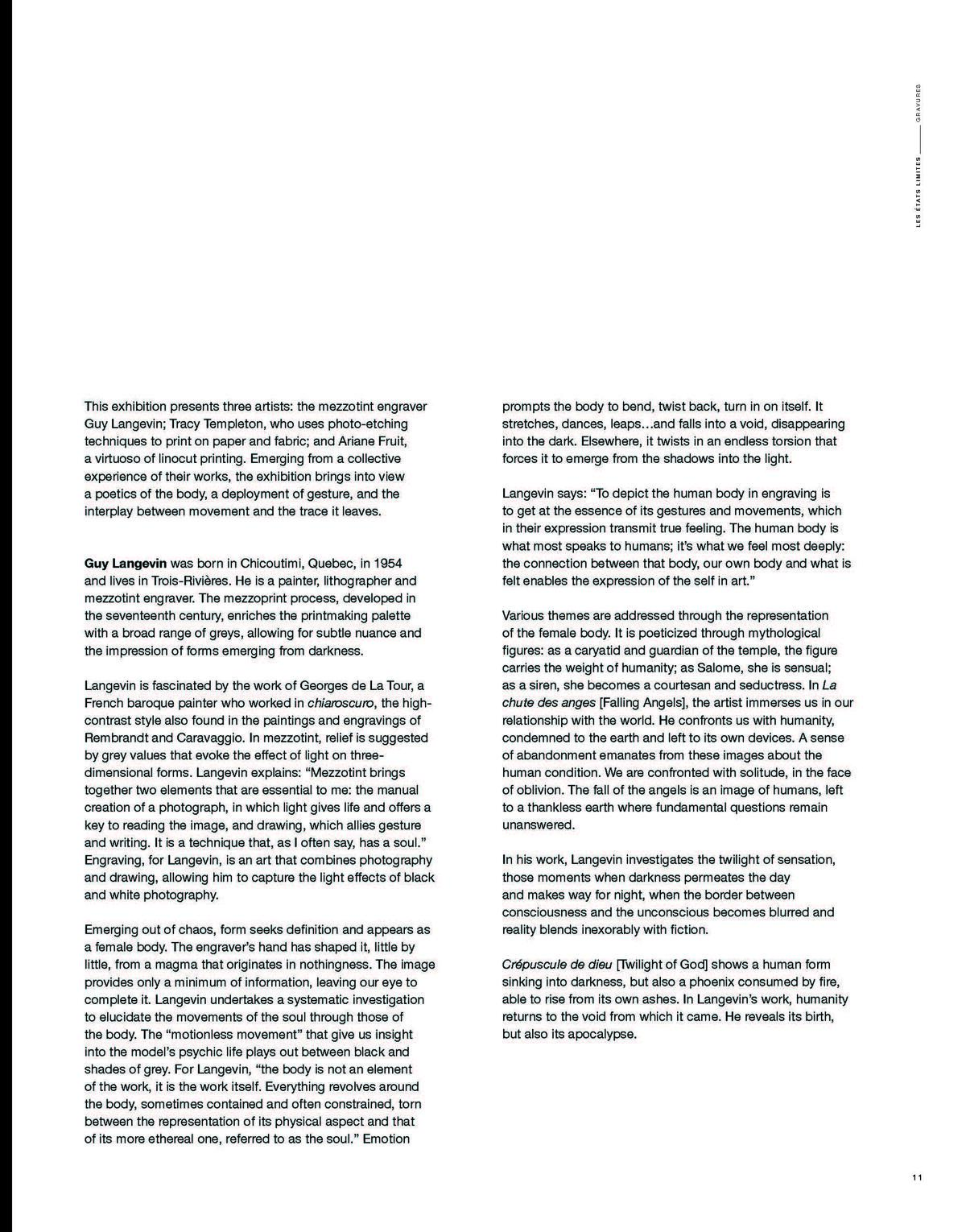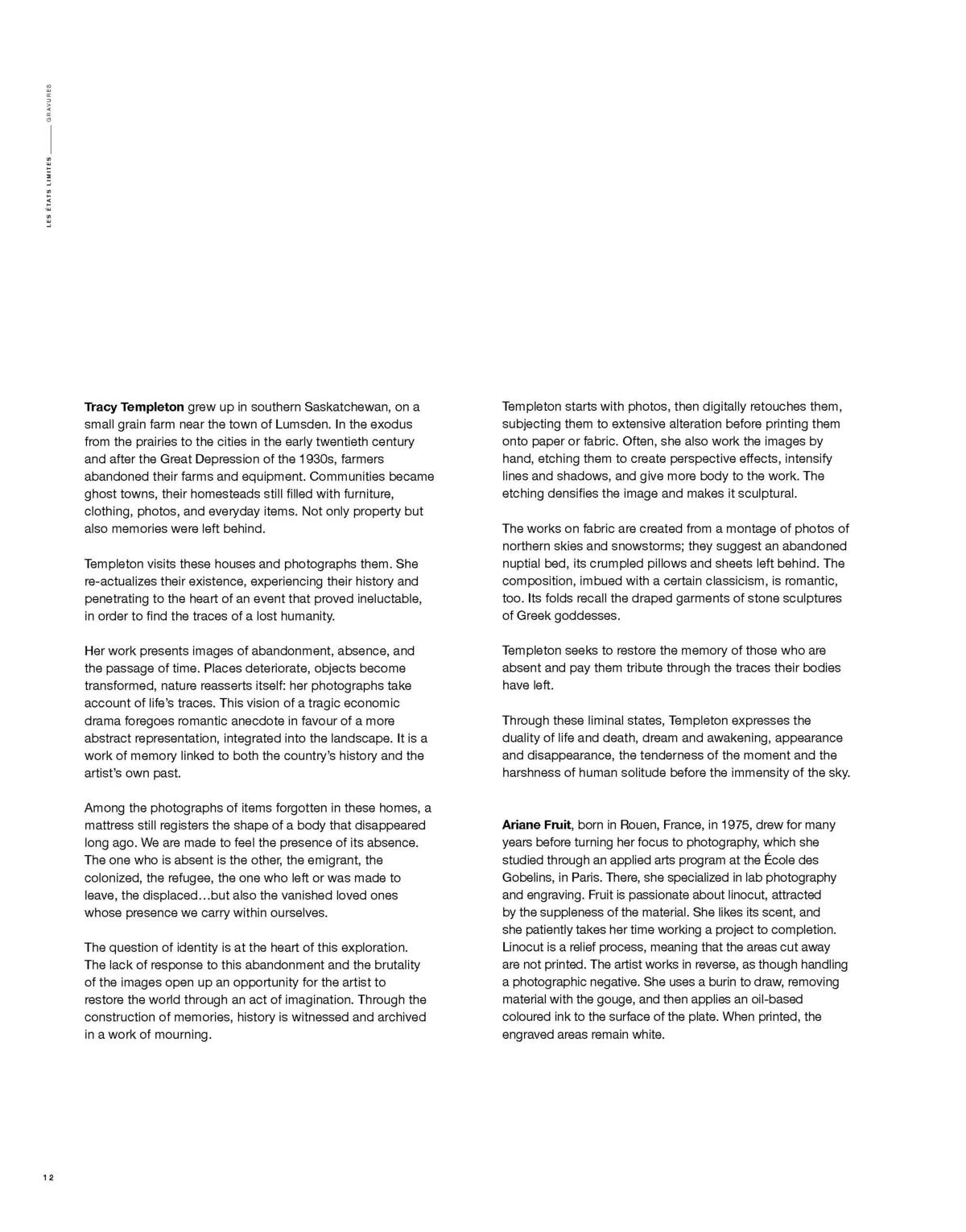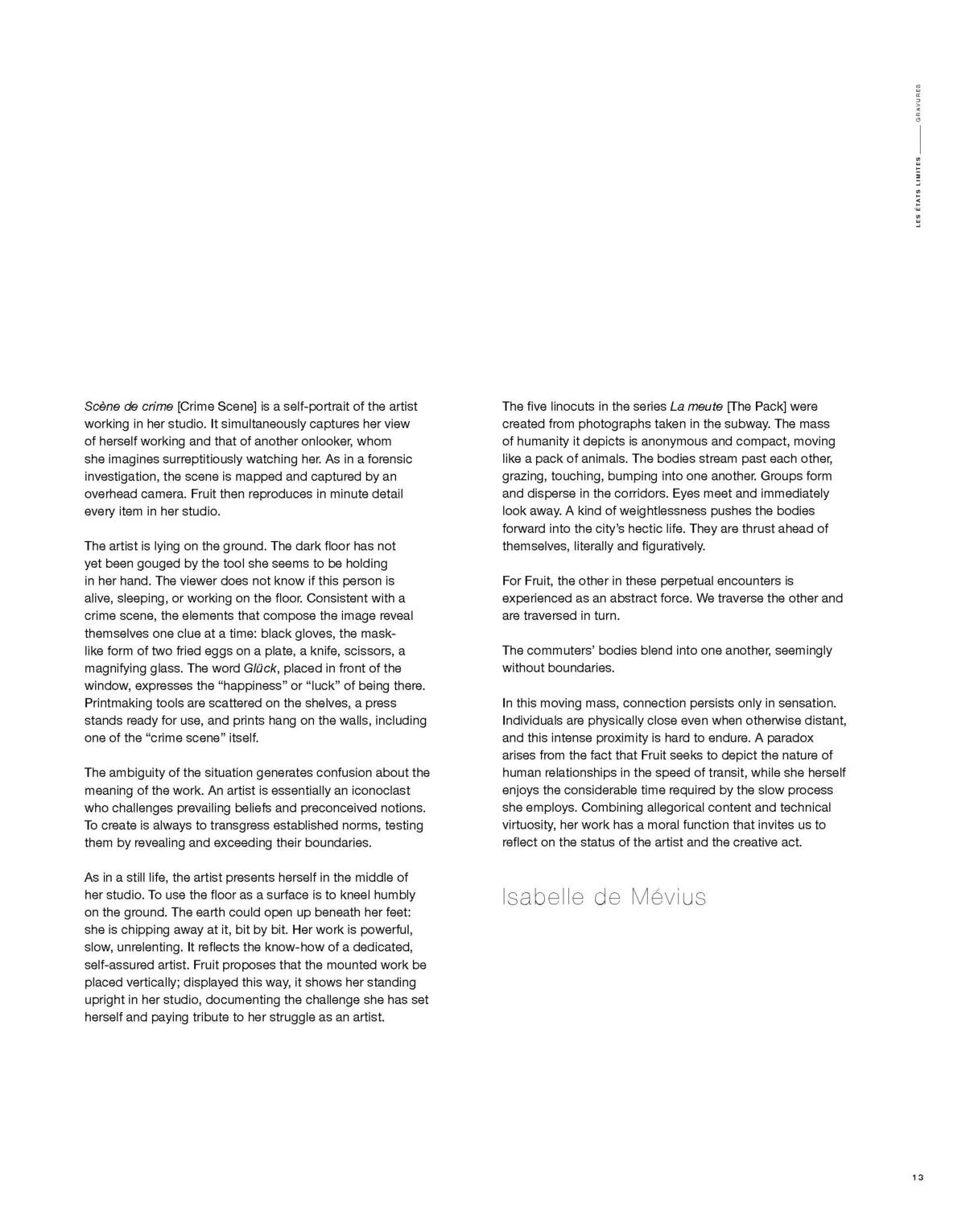 Les états limites: gravures
This illustrated catalogue contains essays by Gérald Gaudet, Walter June, Richard Noyce and Anne Sauvagnargues and is prefaced by Isabelle de Mévius.
Publication
2019
ISBN
978-2-9816657-4-4
Bookbinding
Soft
Collection
Art and essays
Number of pages
175
Authors
Isabelle de Mévius, Gérald Gaudet, Walter Jule, Richard Noyce, Anne Sauvargnargues
Photography
Guy L'Heureux, Sean Hurley, Laurent Lafuma