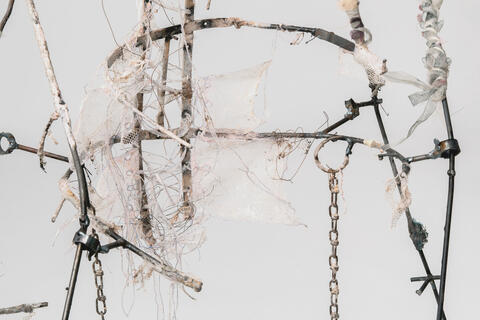 March 17th to July 2nd 2023
"Through her staging of various human depravities and absurdities, Deslauriers tries to find a way of repairing the damage all the same; she gathers everything that is in pieces around her and invents a new world. Searching for freedom, an imaginary being unearths itself from the ashes in original and awe-inspiring ways and takes wing."
- EXCERPT FROM UNEARTHING ITSELF AND TAKING WING BY ISABELLE DE MEVIUS
1700 La Poste is pleased to present an exhibition dedicated to the sculptor Jannick Deslauriers.
Bringing together two major bodies of work, the exhibition Imaginary Being traces Jannick Deslauriers' artistic trajectory from 2006 to the present. A selection of older works, assembled mainly from translucent fabrics, is shown alongside recent creations in which sewing has given way to welding. A new installation, Phasmids, made of steel structures, beeswax, wood ash, and thread, is deployed across the space of the main exhibition hall.
Ci-haut : Phasmes (détails de l'installation en production), 
2023, acier, cire d'abeille, pigments encaustiques, tulle, vinyle transparent, fil et cendres de bois, dimensions variables, crédit photo : Alexis Bellavance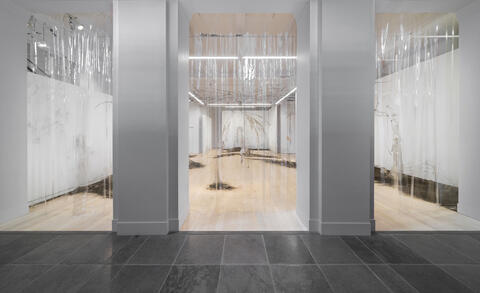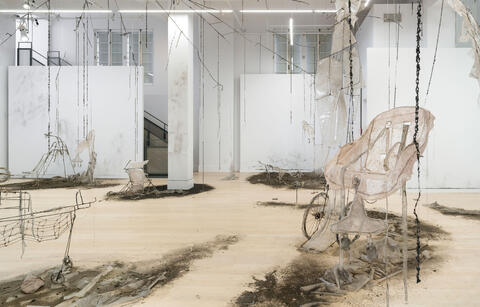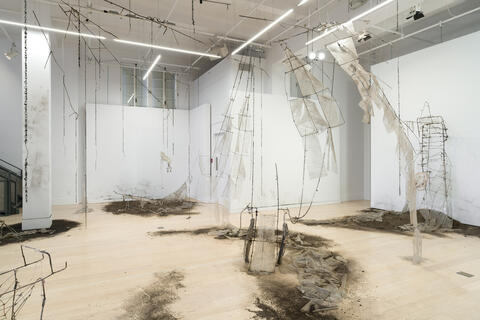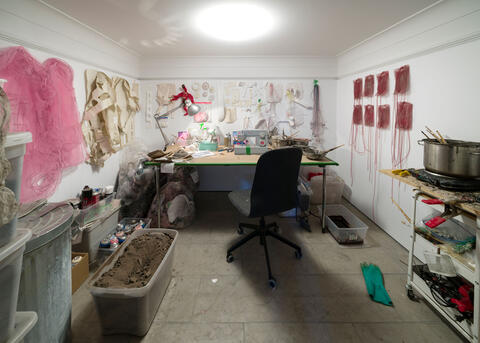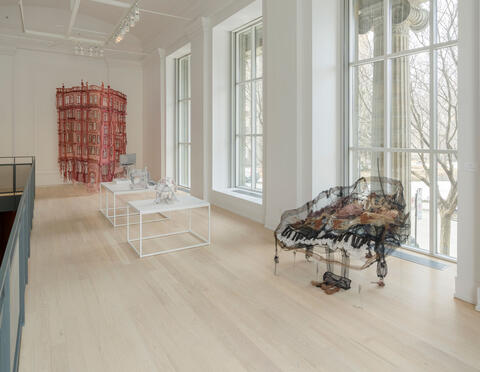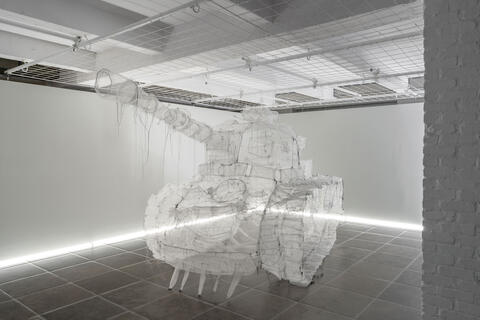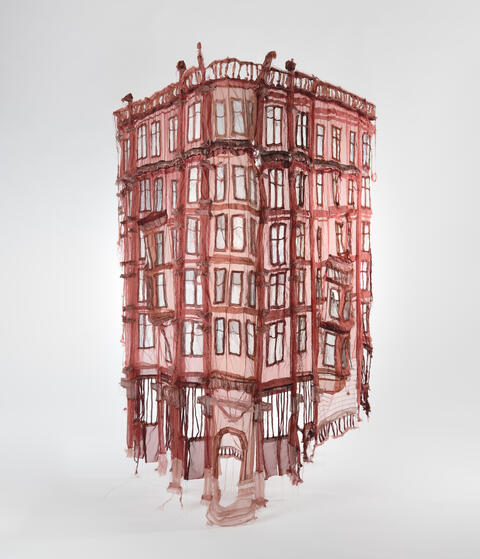 Ghost of the Queen's Hotel, 2006, polyester, tulle and thread, 144 in × 72 in × 48 in, photo credit: Alexis Bellavance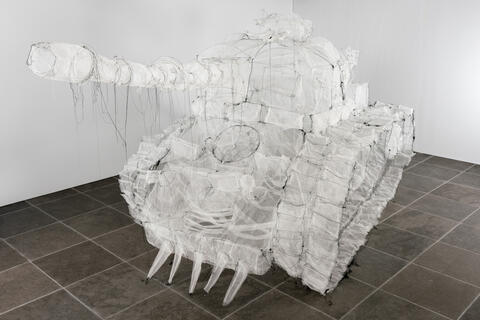 What's Left, 2010, crinoline and thread, 90 in × 200 in × 80 in, photo credit: Alexis Bellavance 

Phasmids (installation view), 2022-2023, steel, beeswax, encaustic pigments, tulle, transparent vinyl, thread, and wood ash, variable dimensions photo credit: Alexis Bellavance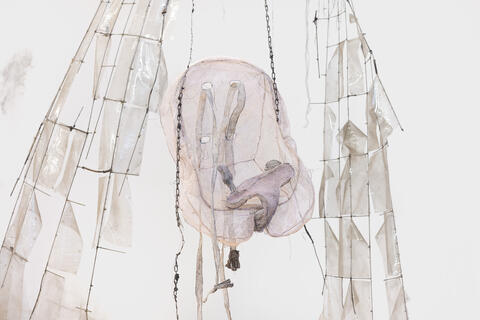 Jannick Deslauriers, Phasmids (installation view), 2022-2023, photo Béatrice Flynn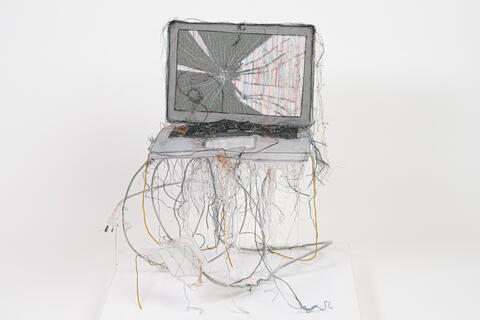 Computer from the series Relic: Body Extension 2018, nylon, tulle and thread, 28 in × 22 in × 16 in, Hamelys Collection, photo credit: Alexis Bellavance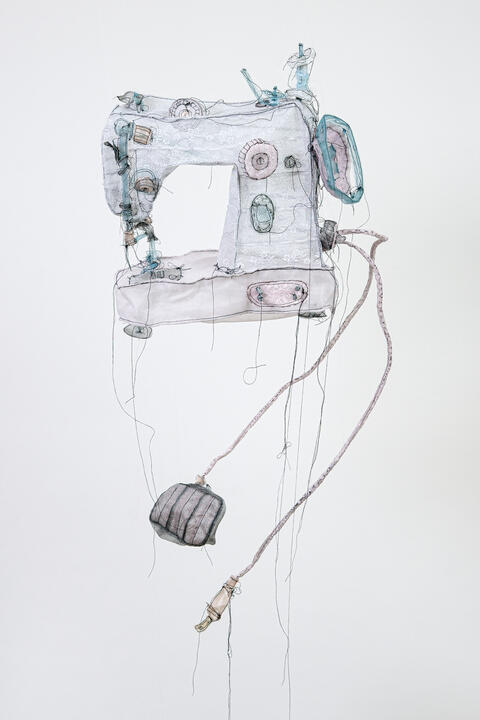 Machine à coudre, 2013, dentelle, organza, crinoline et fil, 79 cm × 46 cm × 23 cm, photo : Alexis Bellavance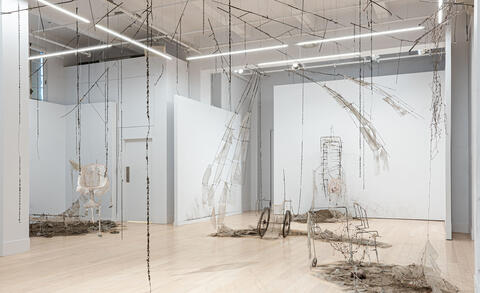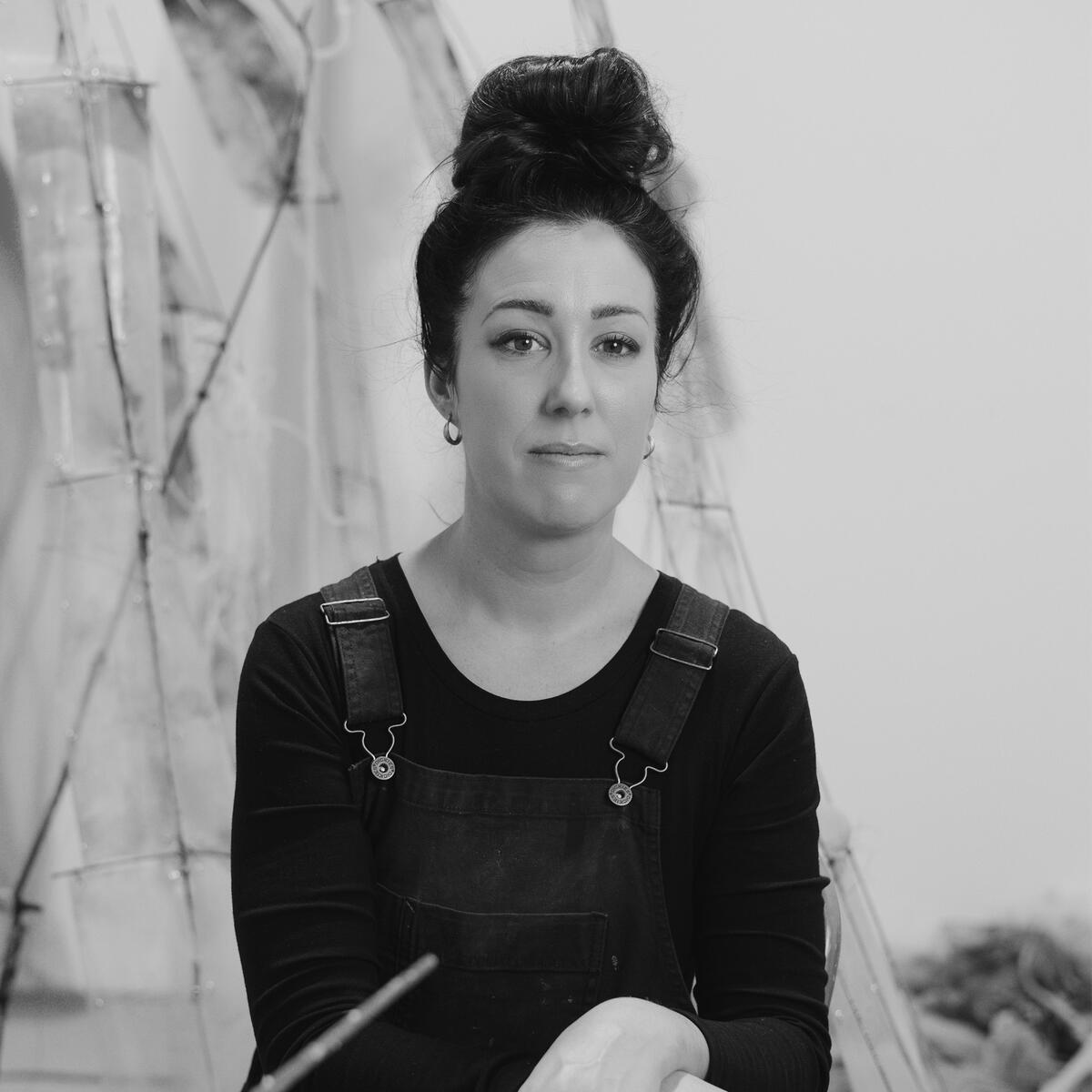 Photo : Béatrice Flynn
Born in Joliette, Quebec, in 1983, Jannick Deslauriers lives and works in Montreal. She earned a BFA from Concordia University in 2008 and taught visual arts at Cégep Marie-Victorin from 2008 to 2020. Between 2020 and 2022, Deslauriers completed an MFA in Sculpture at the Yale School of Art in Connecticut. She is the recipient of numerous distinctions and grants, including the Susan H. Whedon Award for Outstanding Student in Sculpture from Yale University.
Deslauriers has exhibited in Quebec and Ontario, notably at the Musée d'art de Joliette (2011), the Biennale nationale de sculpture contemporaine de Trois-Rivières (2014), and Projet Casa (2020). She has also taken part in group exhibitions in the United Sates, the United Arab Emirates, Germany, Switzerland, France, and Italy, including Miniartexil (2014-2015), the Sharjah Islamic Arts Festival (2016), and Terra Nova in Venice (2022). Her work has been featured in various publications, including Installation Art Now (Sandu Publishing, 2014) and High Touch: Tactile Design and Visual Explorations (Gestalten, 2012). Her sculptural works are in the collections of the Musée d'art contemporain de Montréal and the Musée des beaux-arts de Montréal, the West Collection at SEI, Oaks Pennsylvania, and many corporate and private collections.
Publication
Les Éditions de Mévius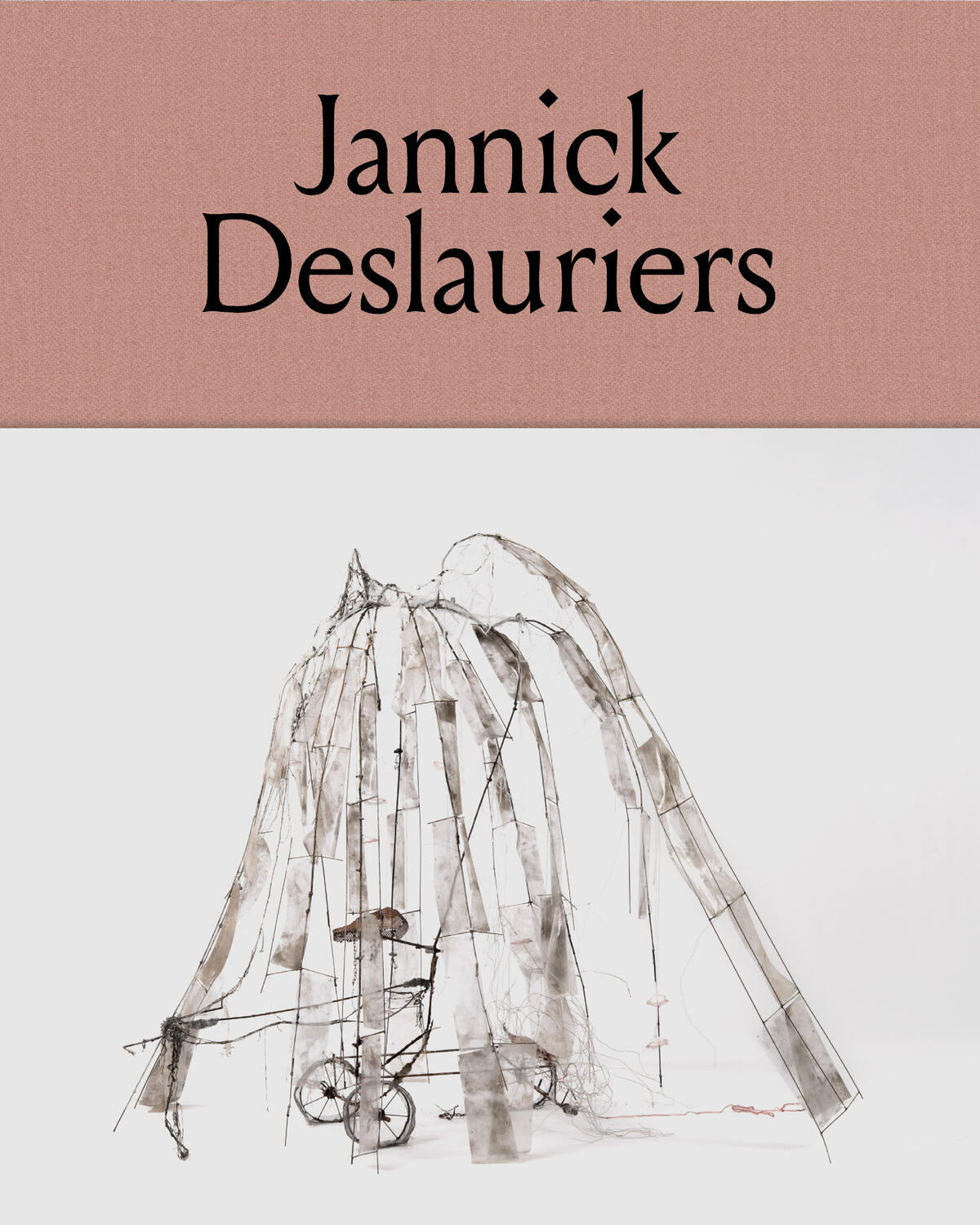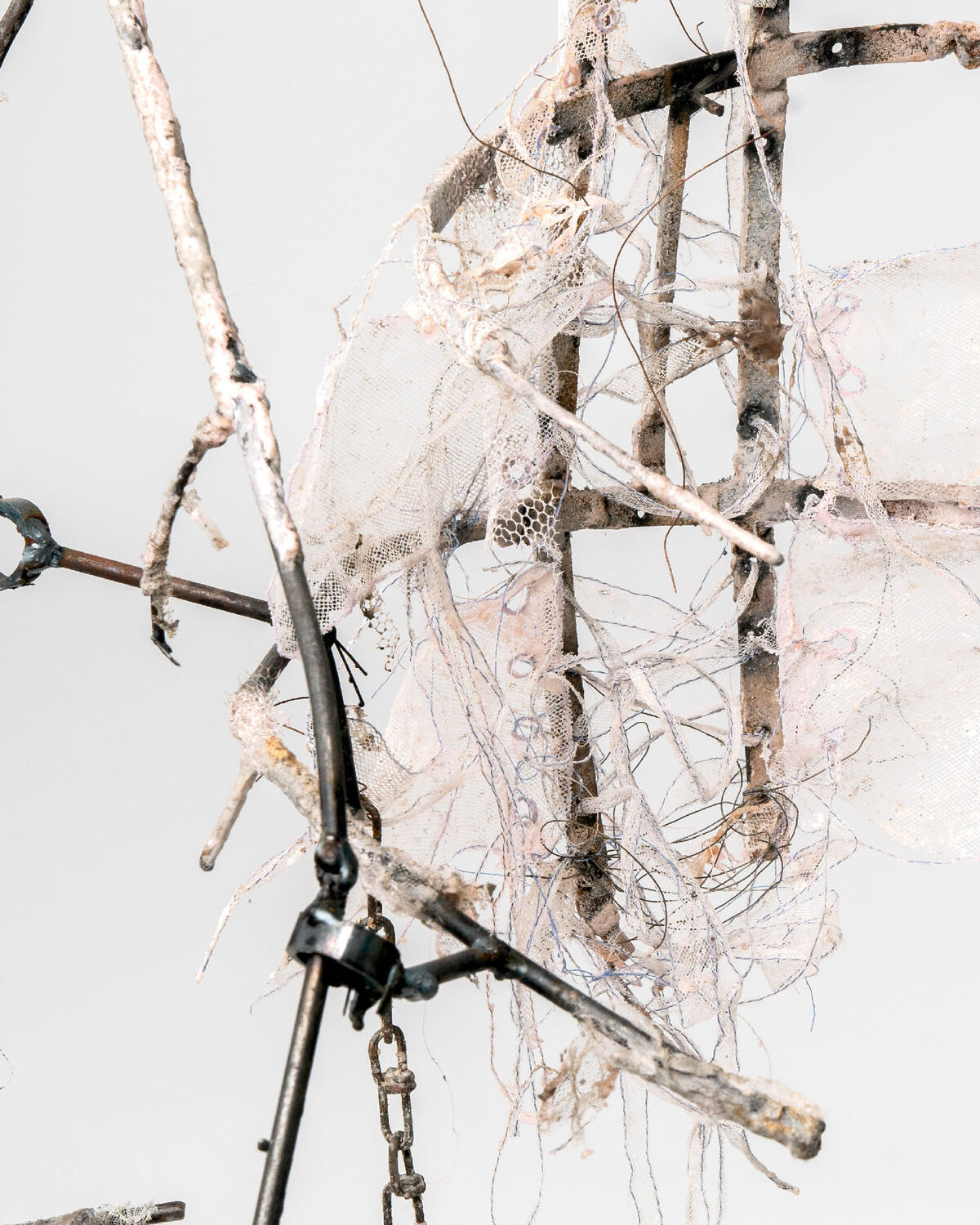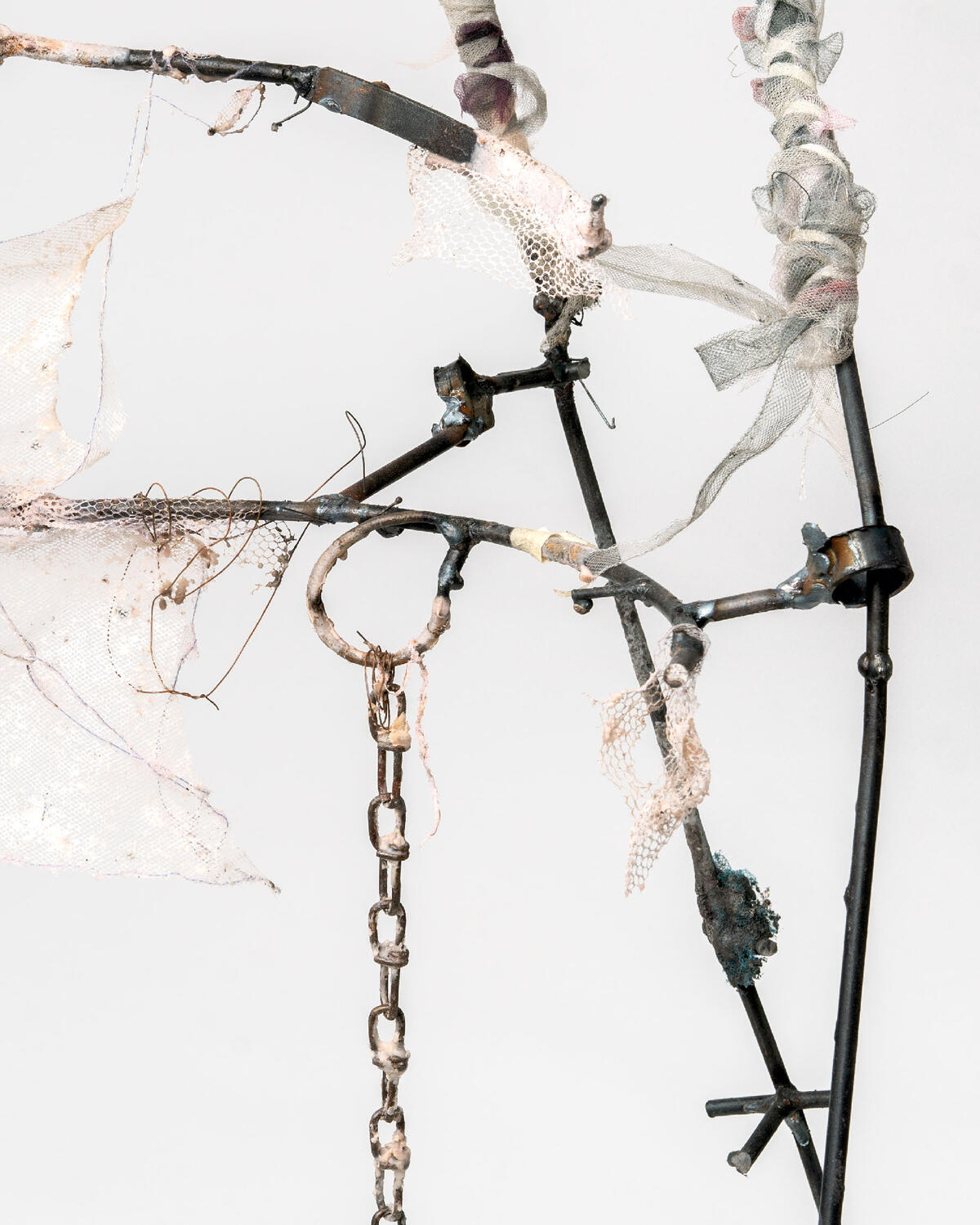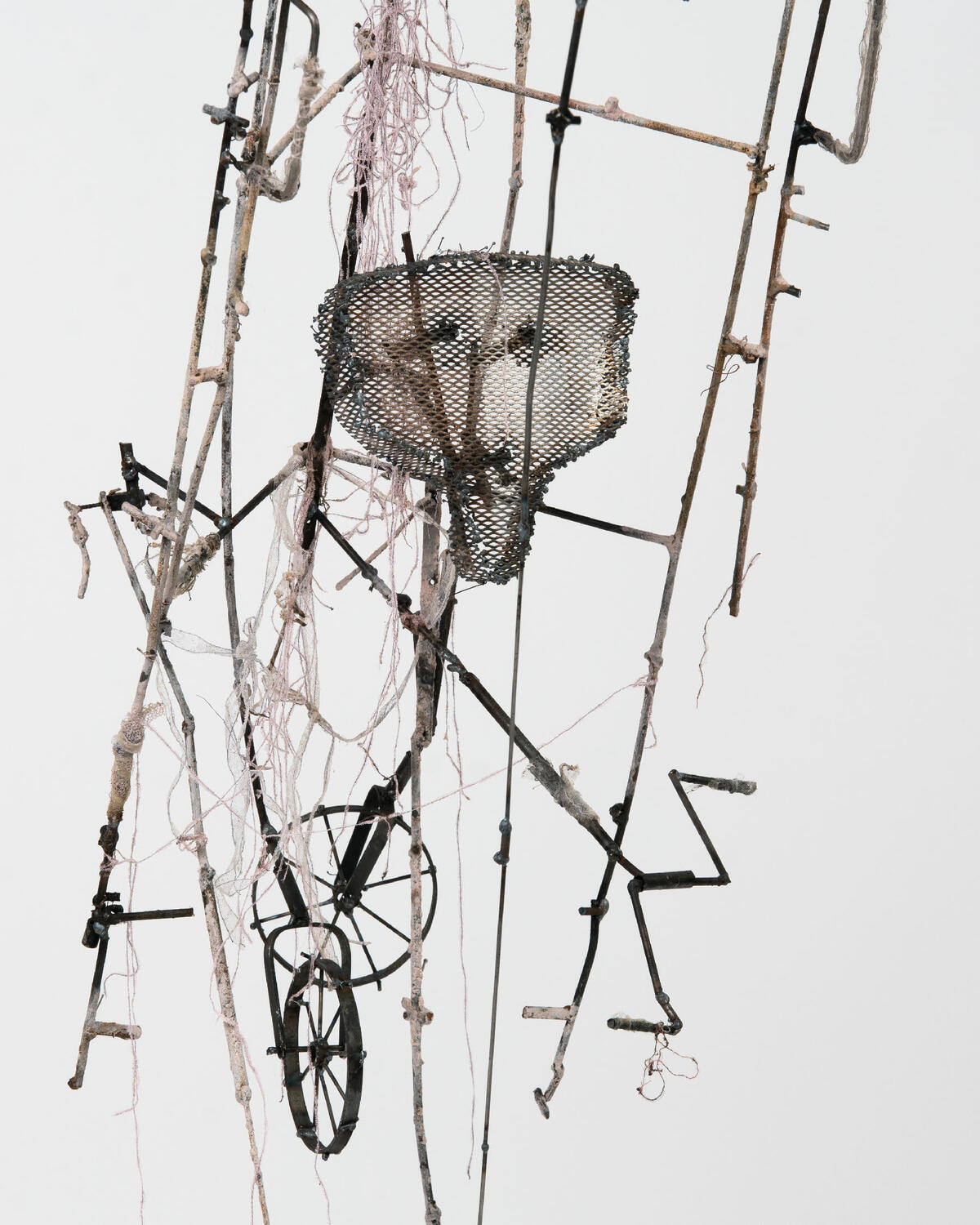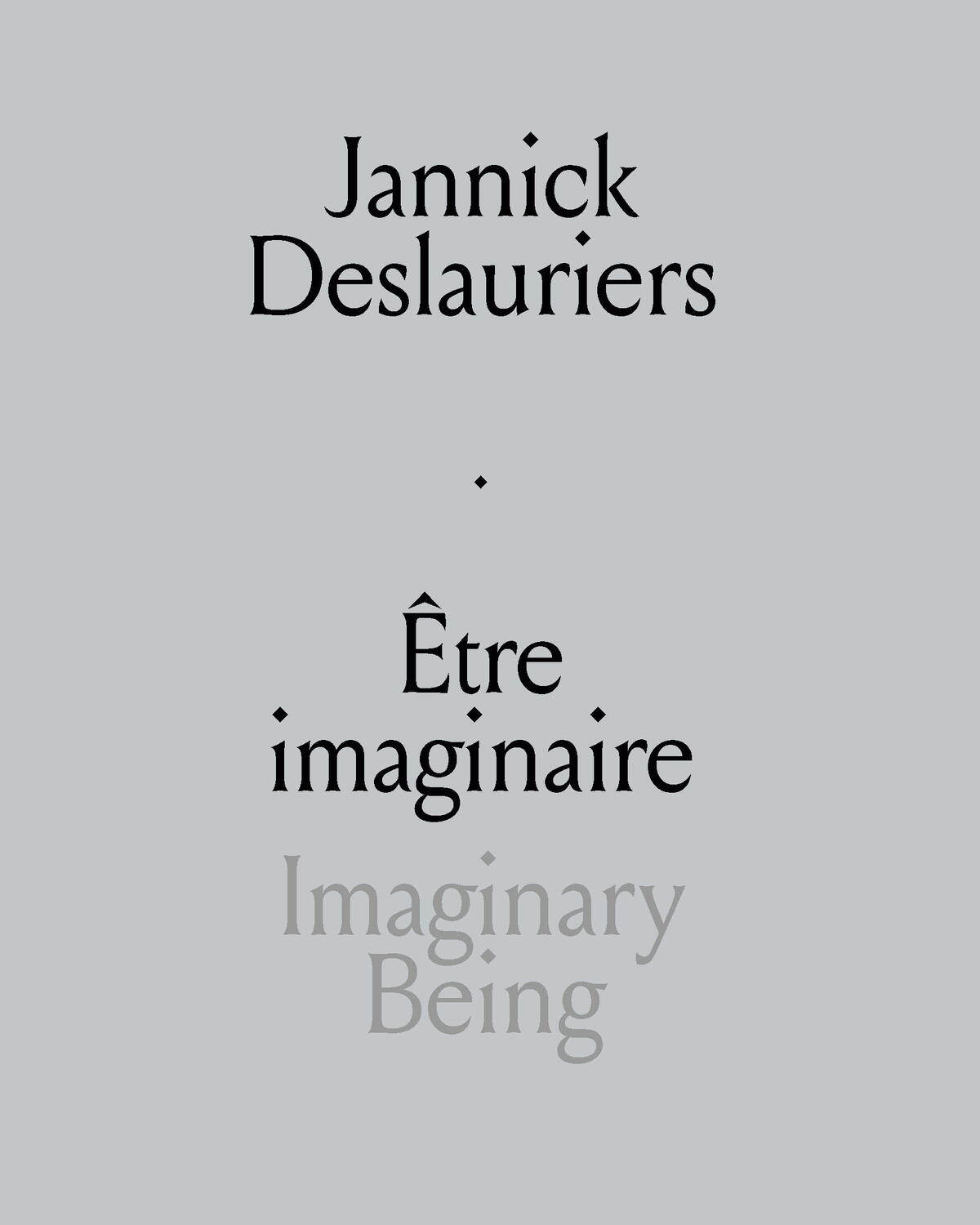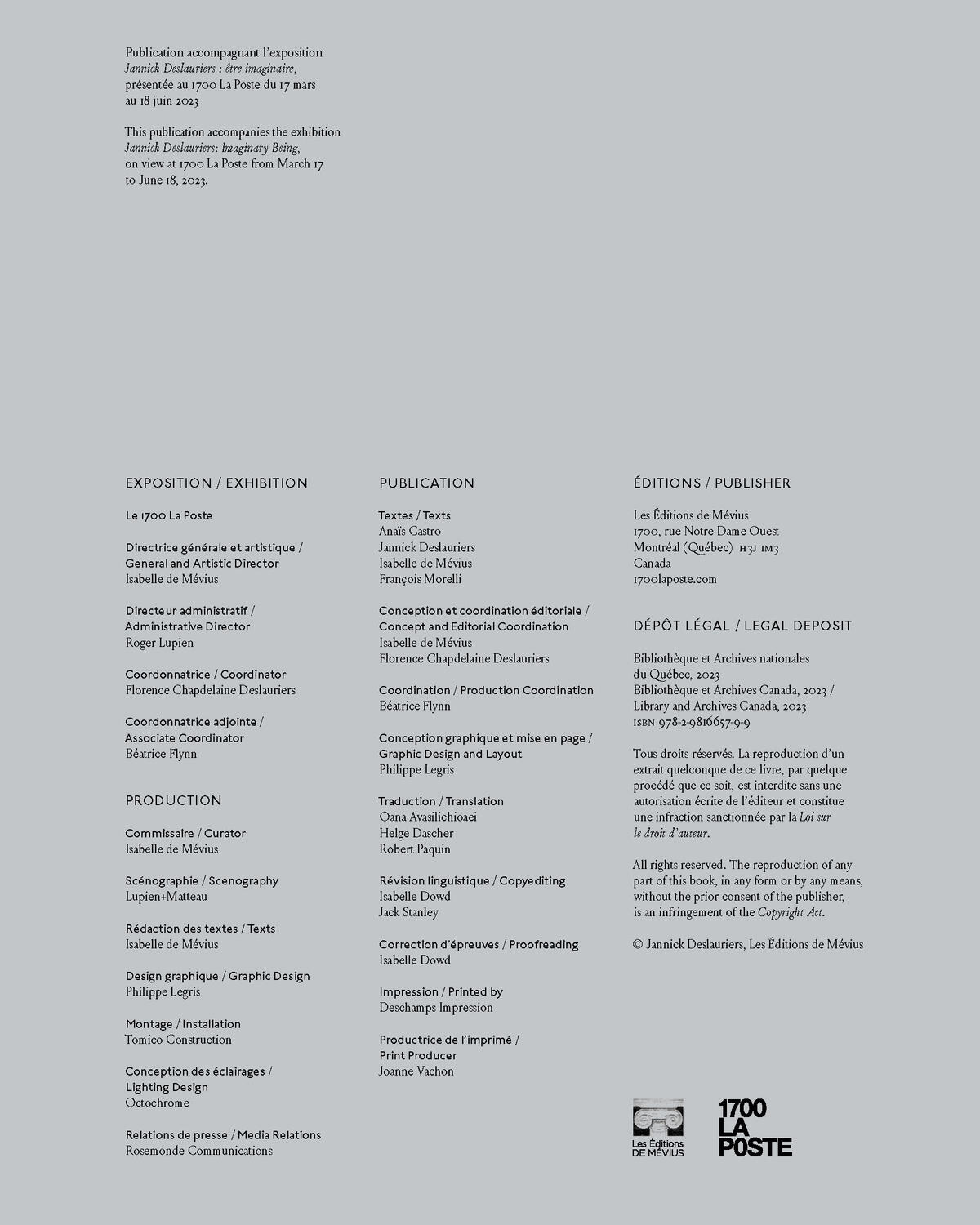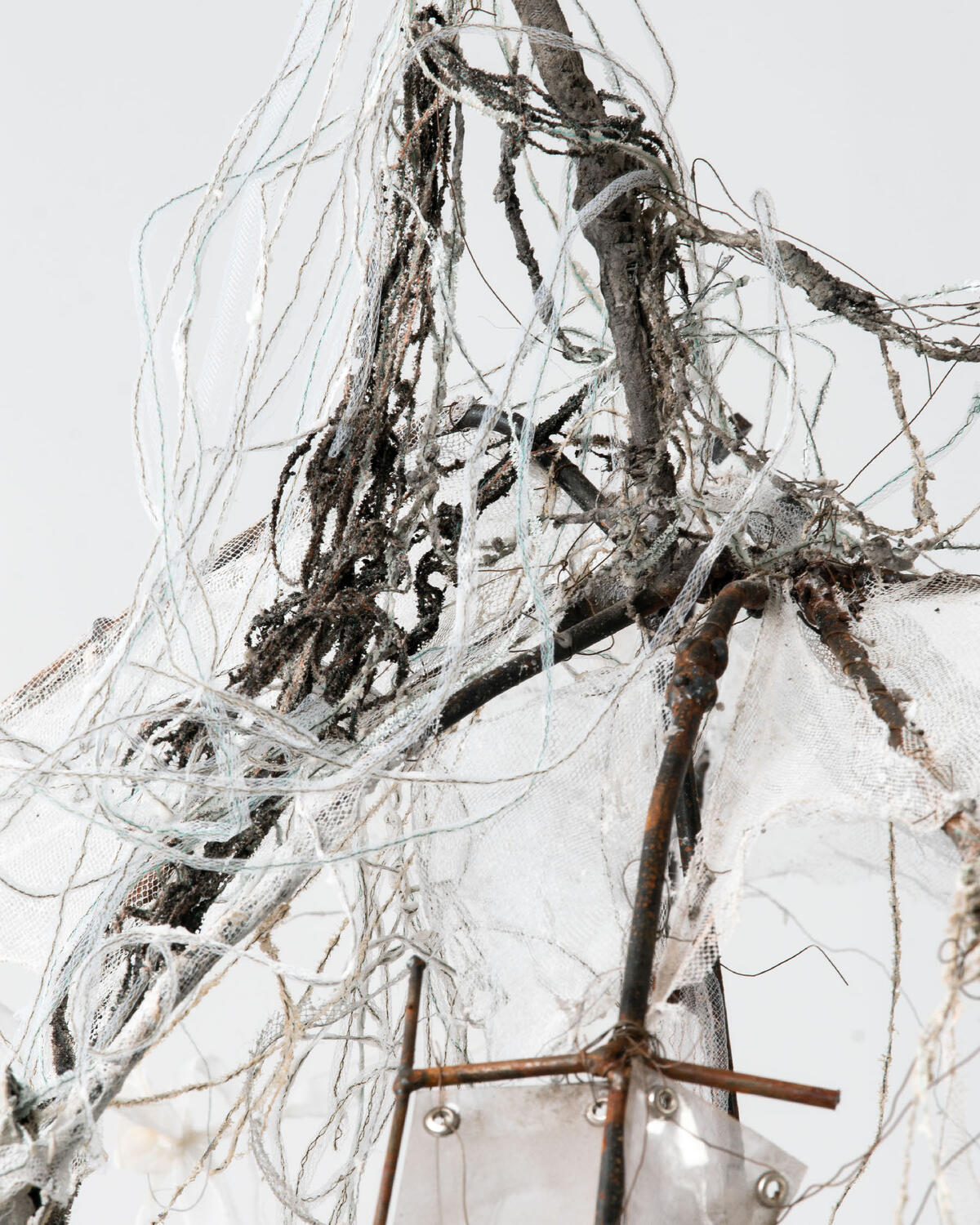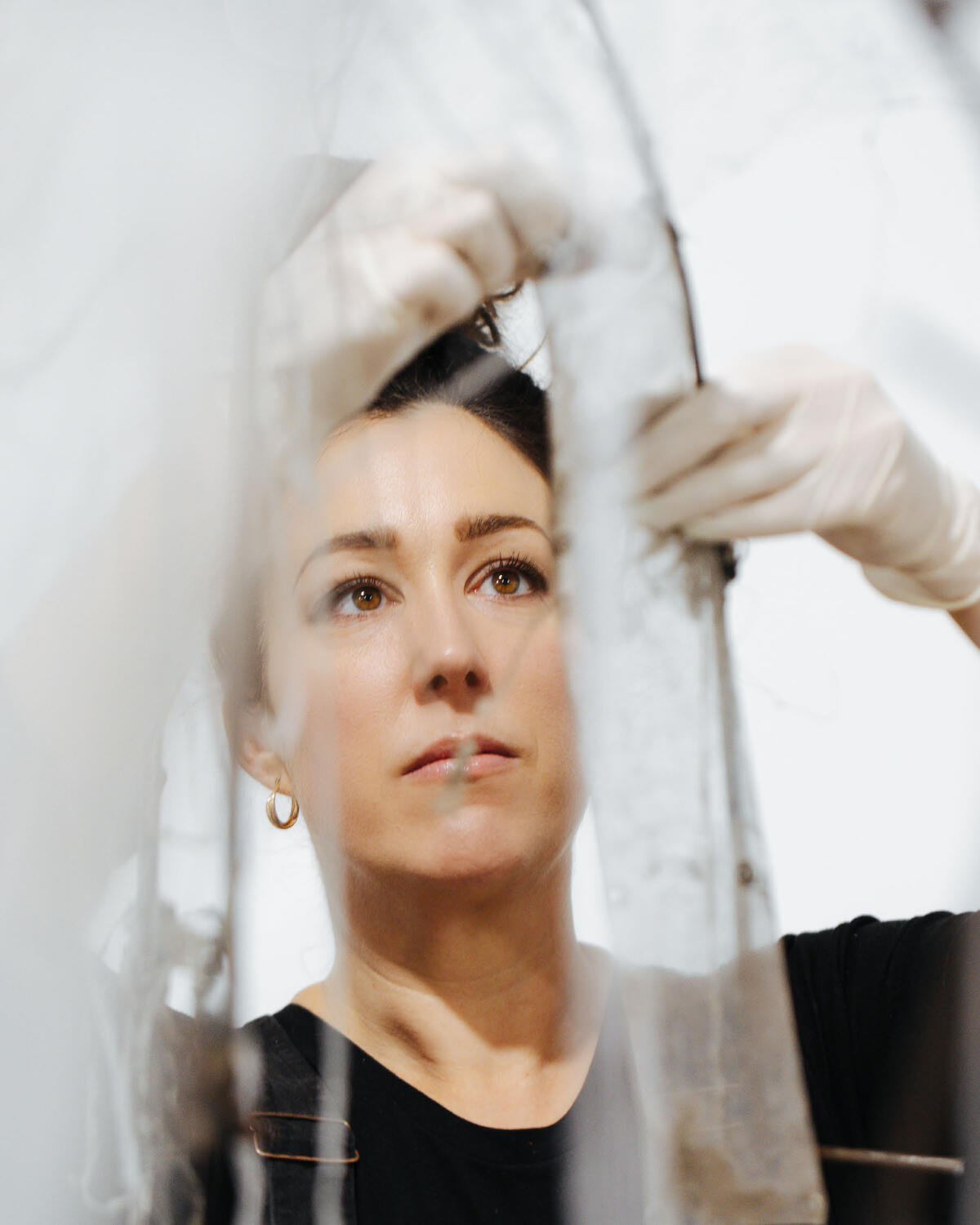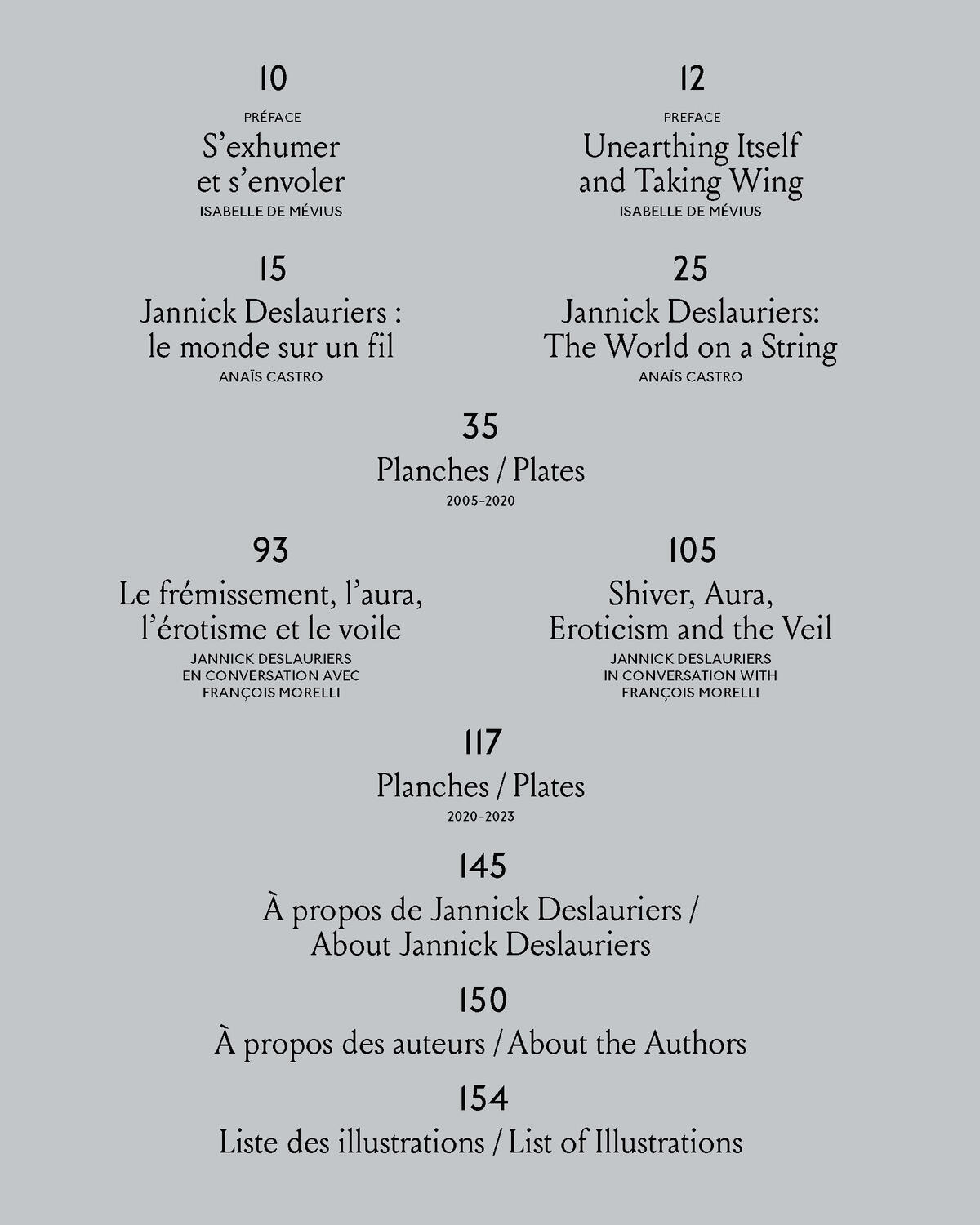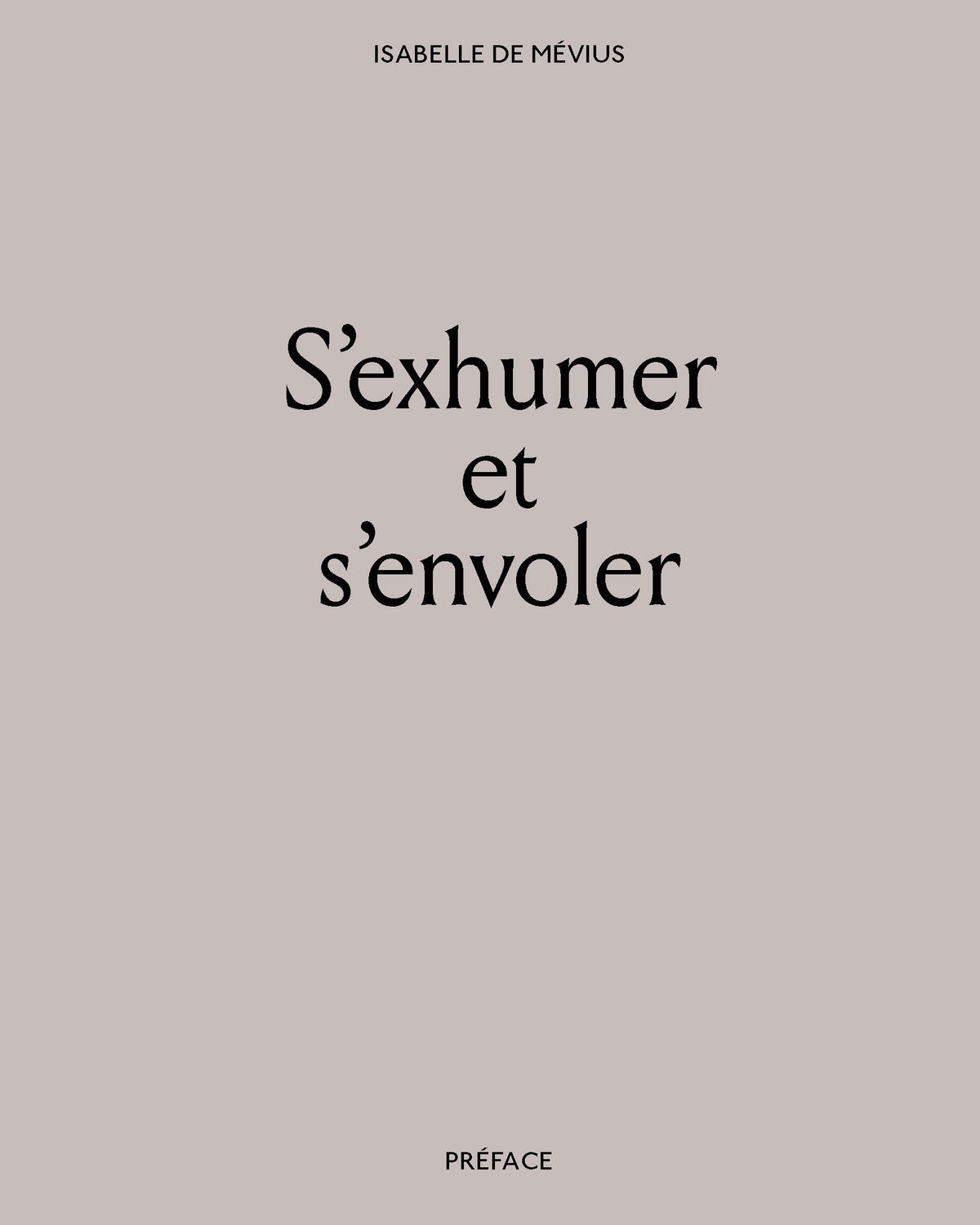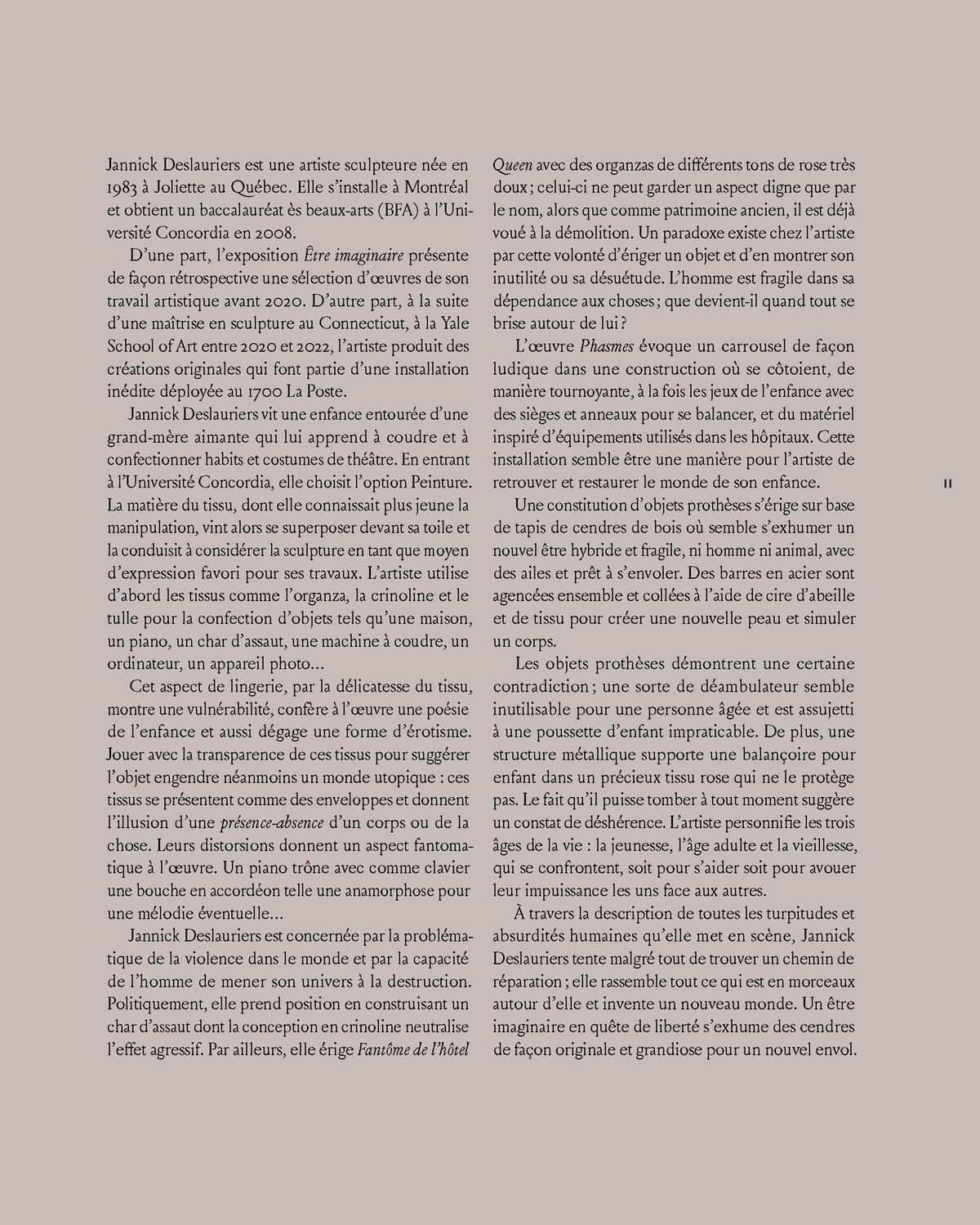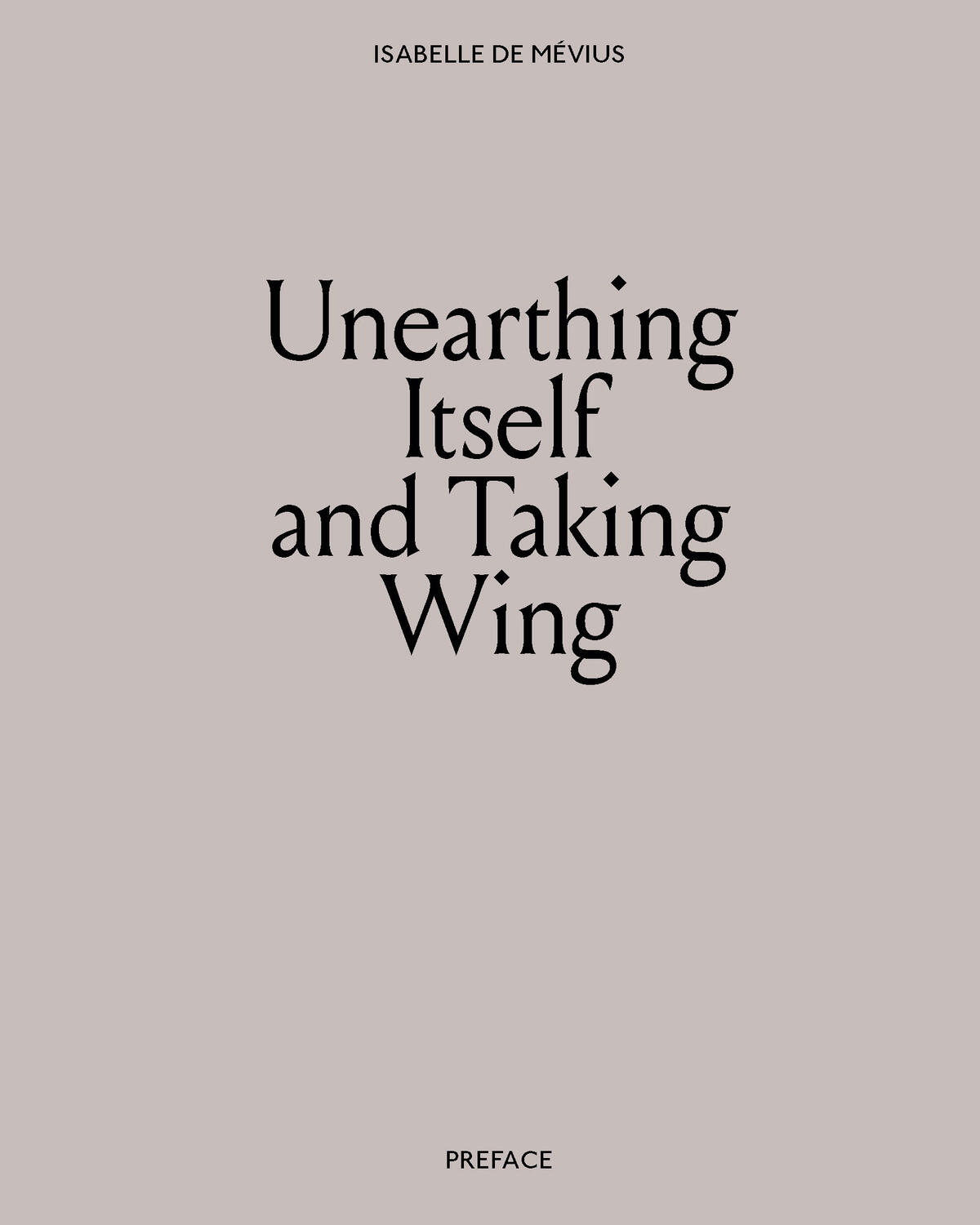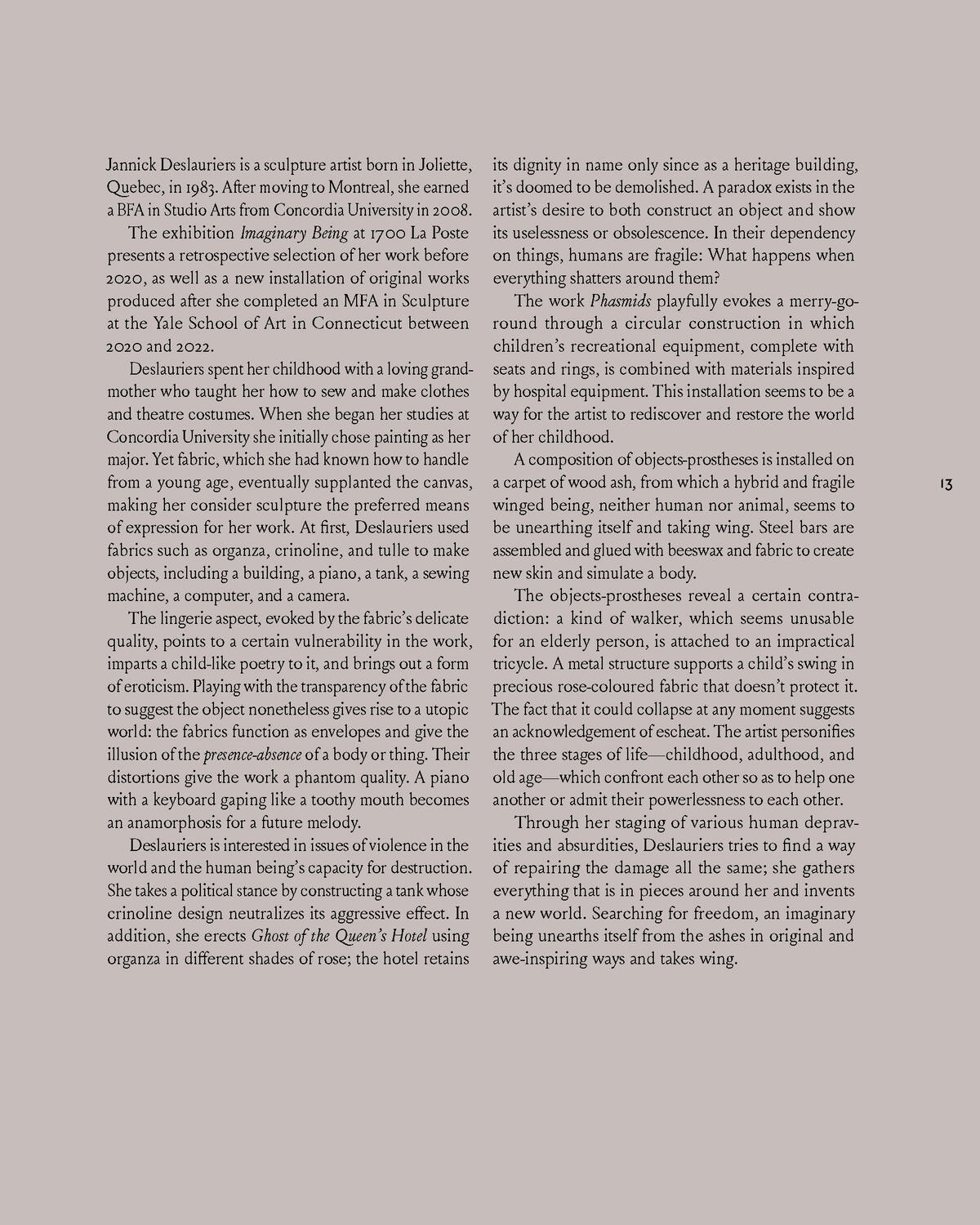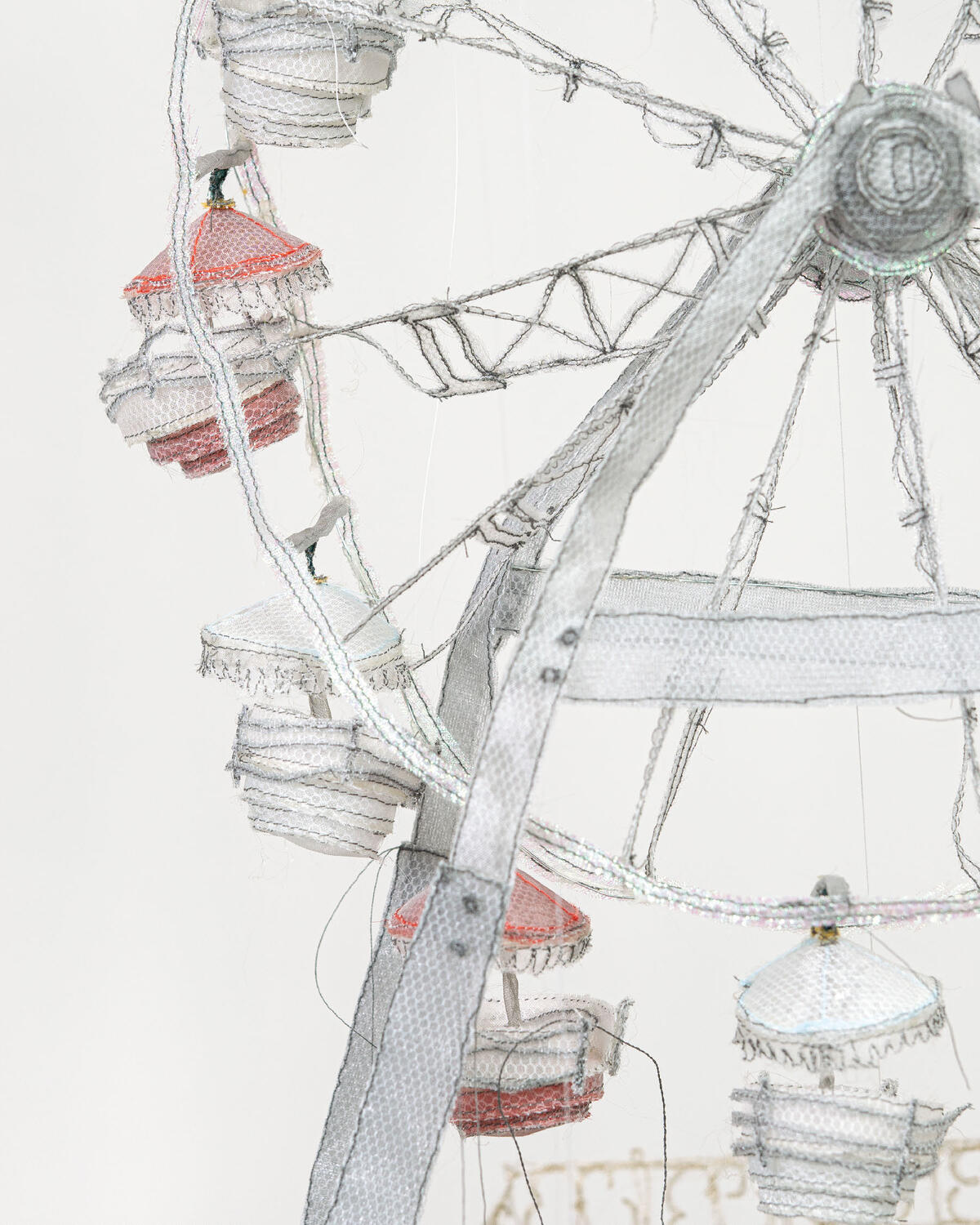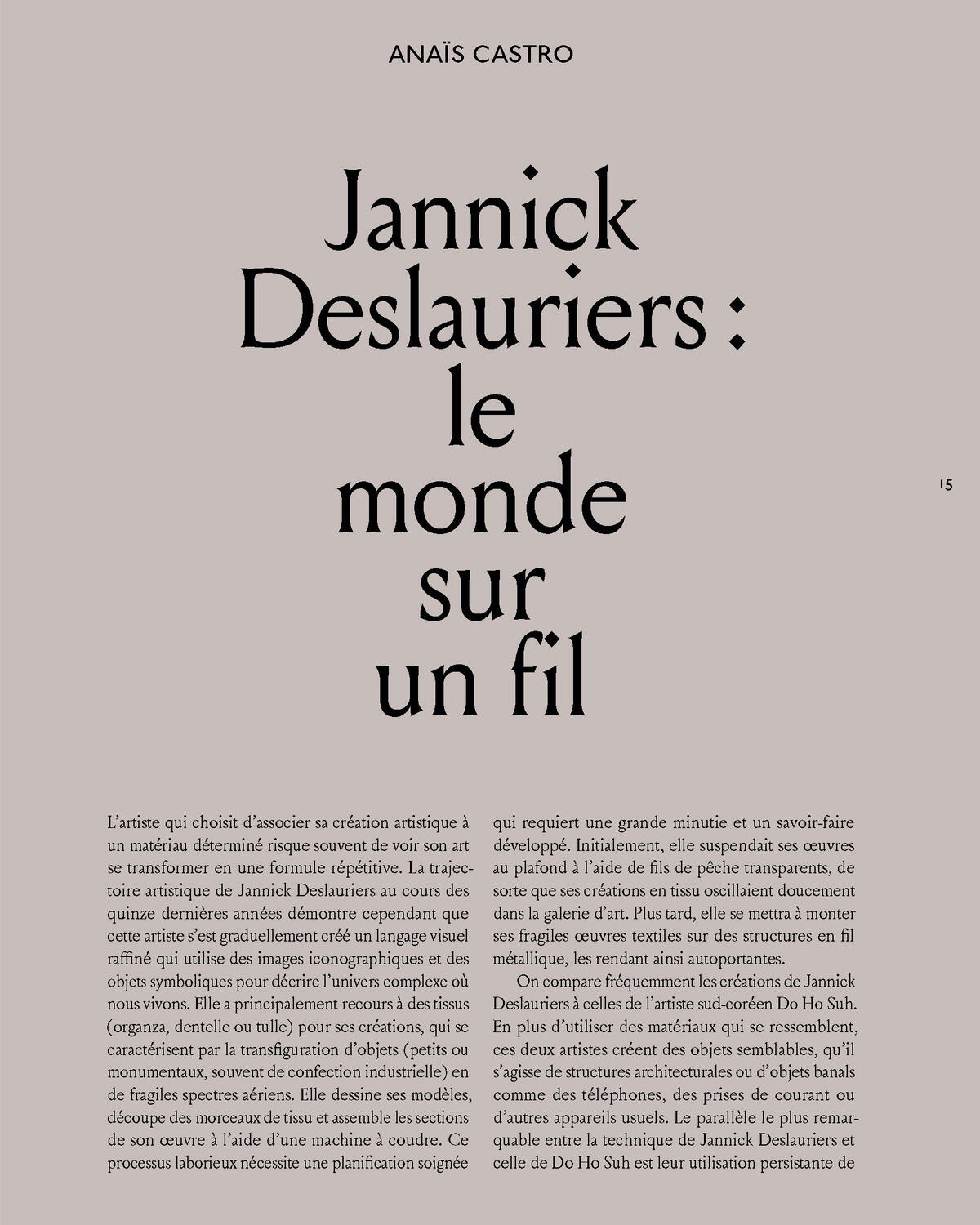 Along with the exhibition Jannick Deslauriers: Imaginary Being, Les Éditions de Mévius publishes the first monograph on sculptor Jannick Deslauriers' œuvre. In conversation with her former teacher and mentor François Morelli, Deslauriers reveals her process and her influences, and details the reflections that lead her to the Phasmids installation, created in situ at 1700 La Poste. An essay by Anaïs Castro, curator and author, situates her work within its sociohistorical context. Prefaced by Isabelle de Mévius, this richly illustrated book dives at the heart of the unique and stirring work of Jannick Deslauriers.
PUBLICATION
March 2023
FORMAT
10 in x 12.5 in x 1,25 in 
ISBN
978-2-9816657-9-9 
BOOKBINDING
Hardcover
COLLECTION
Art and essay
NUMBER OF PAGES
160
AUTHORS
Anaïs Castro, Jannick Deslauriers, François Morelli 
 
PHOTOGRAPHY
Alexis Bellavance, Anaïs Castro, Béatrice Flynn, Mike Patten, Robert Spinner, Emily Barressi, Olivier Bousquet, Christine Guest, Sabrina Jolicoeur, Kevin Rameau, Liam Maloney