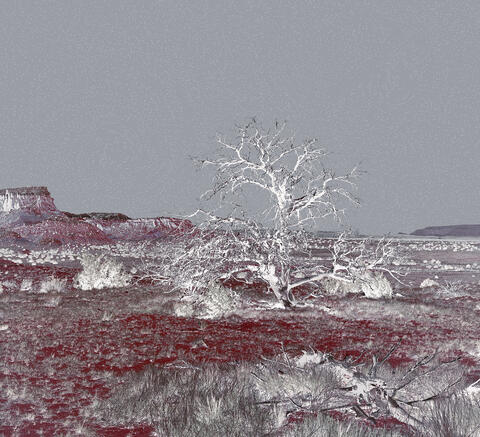 August 26th to December 20th 2020
"Cadieux does not see her work as restricted to photography, but as an artistic experience in which she engages painting through the treatment of surfaces, as well as a sculptor's eye in the monumental presentation of her images. The introduction of palladium and gold-leaf illumination lends preciousness and originality to her work and gives it a cosmic dimension."
Extract from the preface by Isabelle de Mévius
1700 La Poste is pleased to invite you to an exhibition devoted to Montreal artist Geneviève Cadieux. In her photographic installations of imposing dimensions, the artist approaches the human body as a landscape and addresses large spaces under the perspective of a portrait. A selection of works executed between 1993 and 2020 brings together these two bodies of works in which Geneviève Cadieux was able to capture the passage of time with a play of scale and light. This exhibition will also unveil the new creation of the artist, Firmament.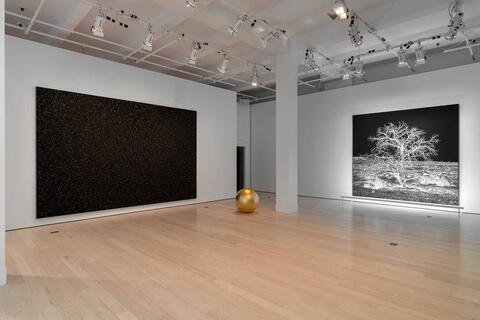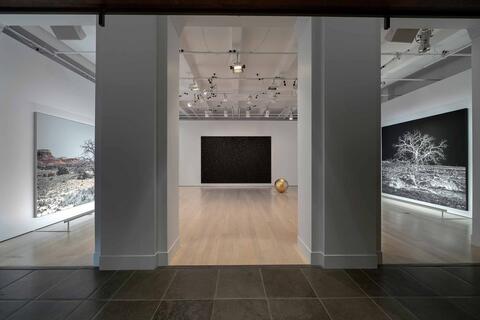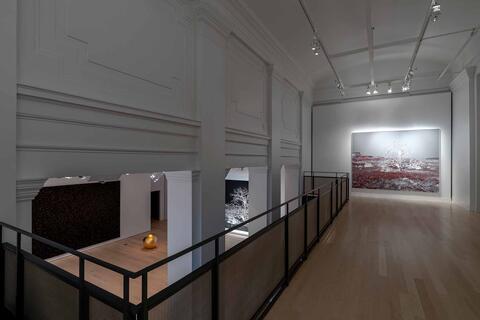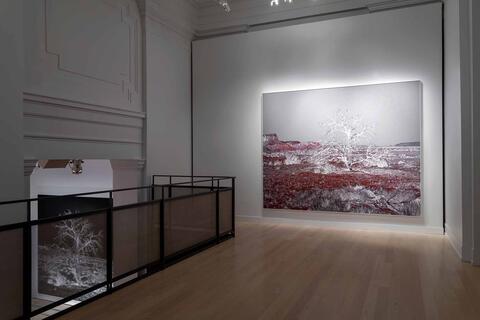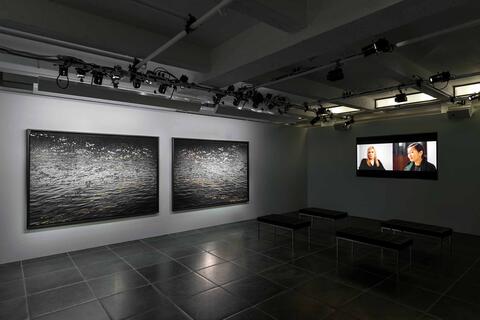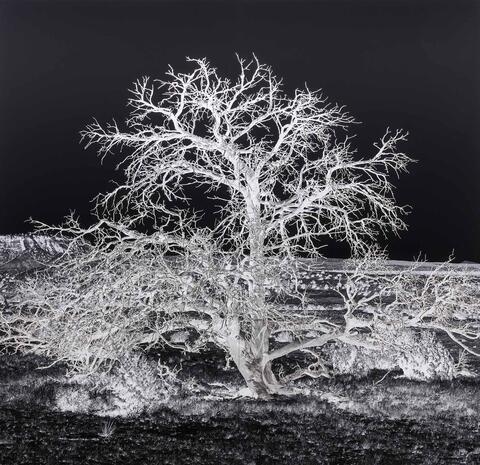 Geneviève Cadieux, Arbre seul (la nuit), 2017, inkjet print on rag paper enhanced with palladium leaf, 305 cm x 305 cm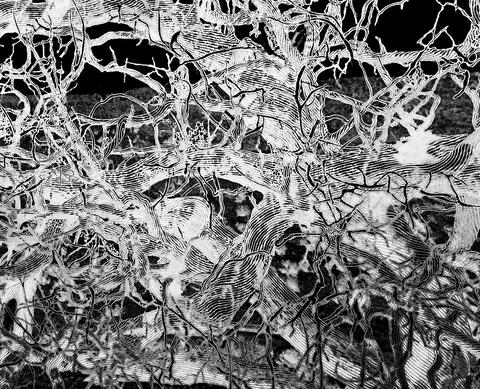 Geneviève Cadieux, Arbre seul (la nuit) - detail, 2017, inkjet print on rag paper enhanced with palladium leaf, 305 cm x 305 cm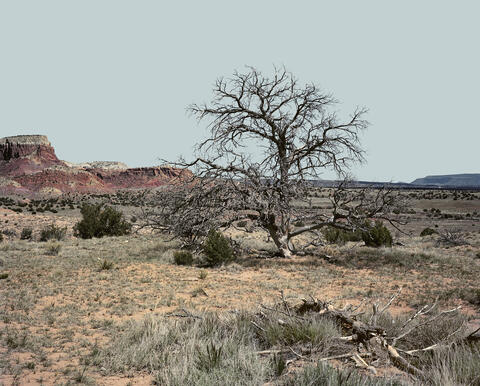 Geneviève Cadieux, Arbre seul (le jour), 2017, Inkjet print on rag paper enhanced with gold leaf, 244 cm x 305 cm
Geneviève Cadieux, Rubis, 1993, Chromogenic prints mounted on plexiglas, 269 cm x 360 cm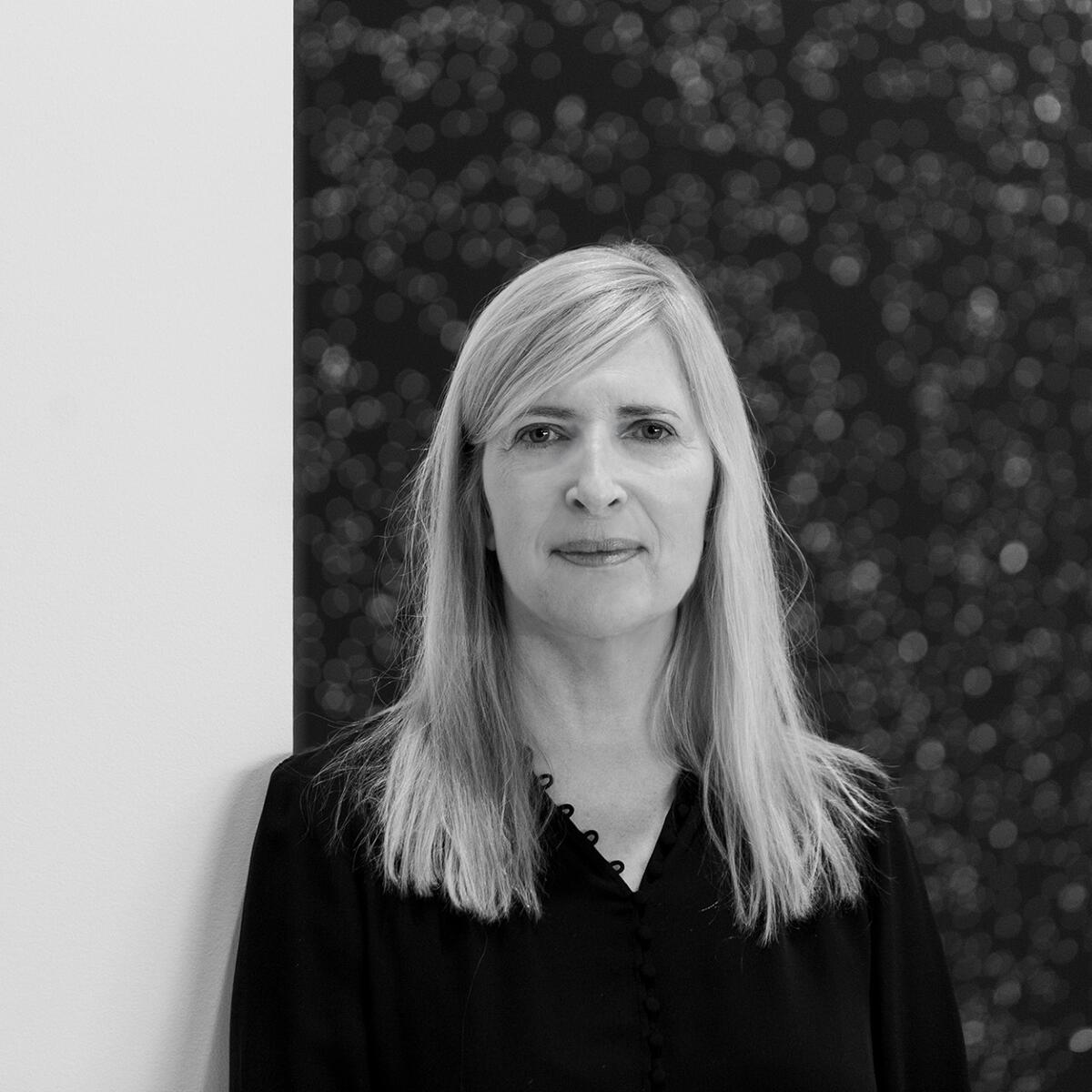 Photo credit: Béatrice Flynn
Geneviève Cadieux's work tests the limits of intervention in the recording and production of photographic images. The manner in which she presents her work in museums and public spaces is inspired by theatrical and cinematic conventions, advertising strategies and their effect on individuals. Her large-scale photographic images and installations centre on the representation of the human body and landscape, understood as a site of contact between mind and body. She perceives the body as a sensitive surface, able to register traces of time and suffering in the same way as photographic images record luminous wounds on emulsion. She is interested in the integration of art in urban spaces, its visibility and impact on passers-by and the way it marks and identifies a site. Her influential practice places her at the forefront of developments in the production of photographic images.
Since 2002, Cadieux has been Associate Professor of Photography in the Faculty of Fine Arts at Concordia University in Montreal. She has taught as a visiting artist at the College of Architecture, University of Illinois, Chicago (1998), the Universitat Politècnica de Valencìa, Spain (1997), the École d'art de Grenoble, France (1996) and the École nationale supérieure des beaux-arts in Paris (1993-1994).
Cadieux received the Governor General's Award in Visual and Media Arts in 2011. She was named a Fellow of the Royal Society of Canada in 2014, and was granted the Prix Paul-Émile Borduas, Québec's most prestigious arts award, in 2018. Geneviève Cadieux is represented by Galerie René Blouin in Montréal.
Publication
Les Éditions de Mévius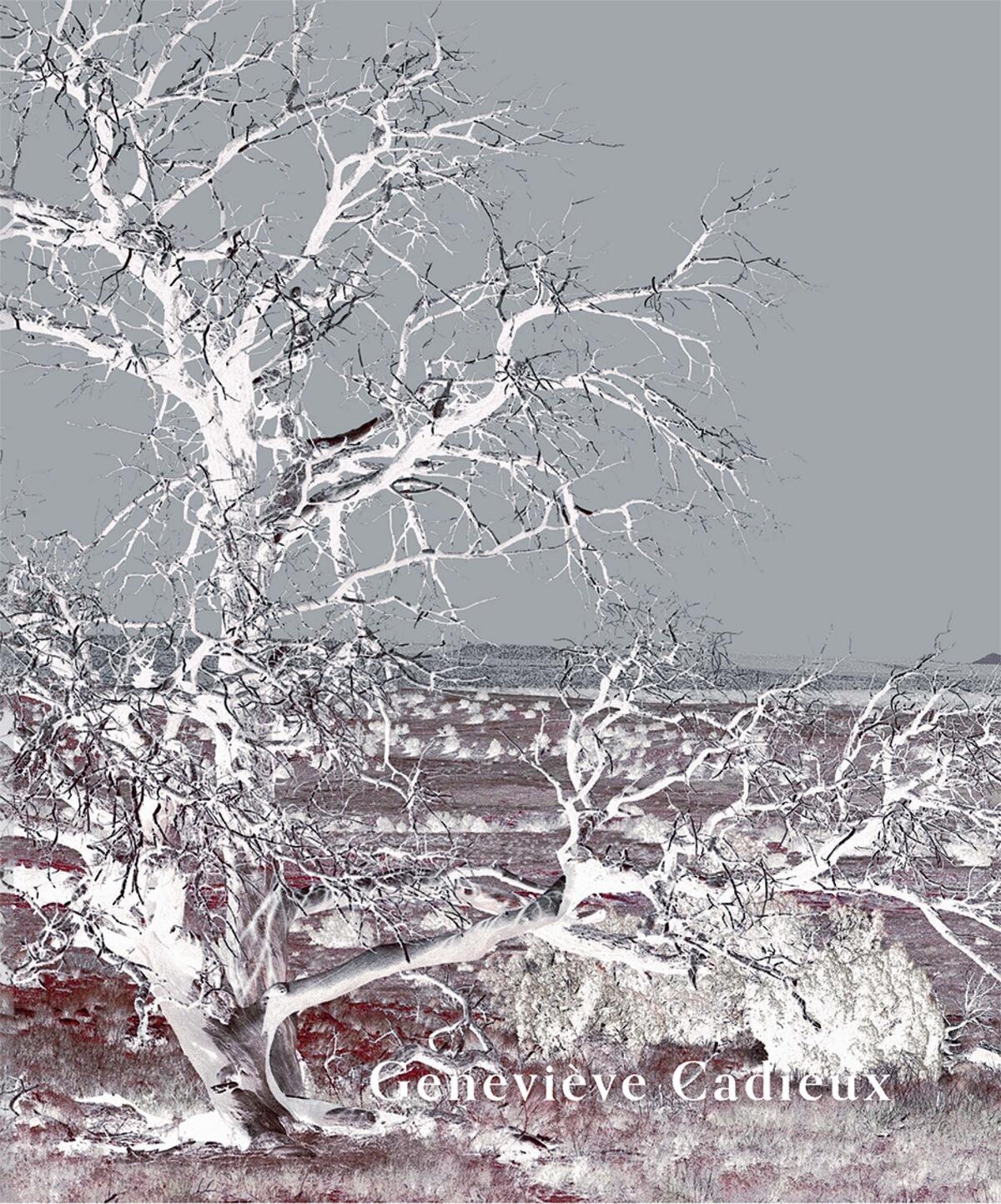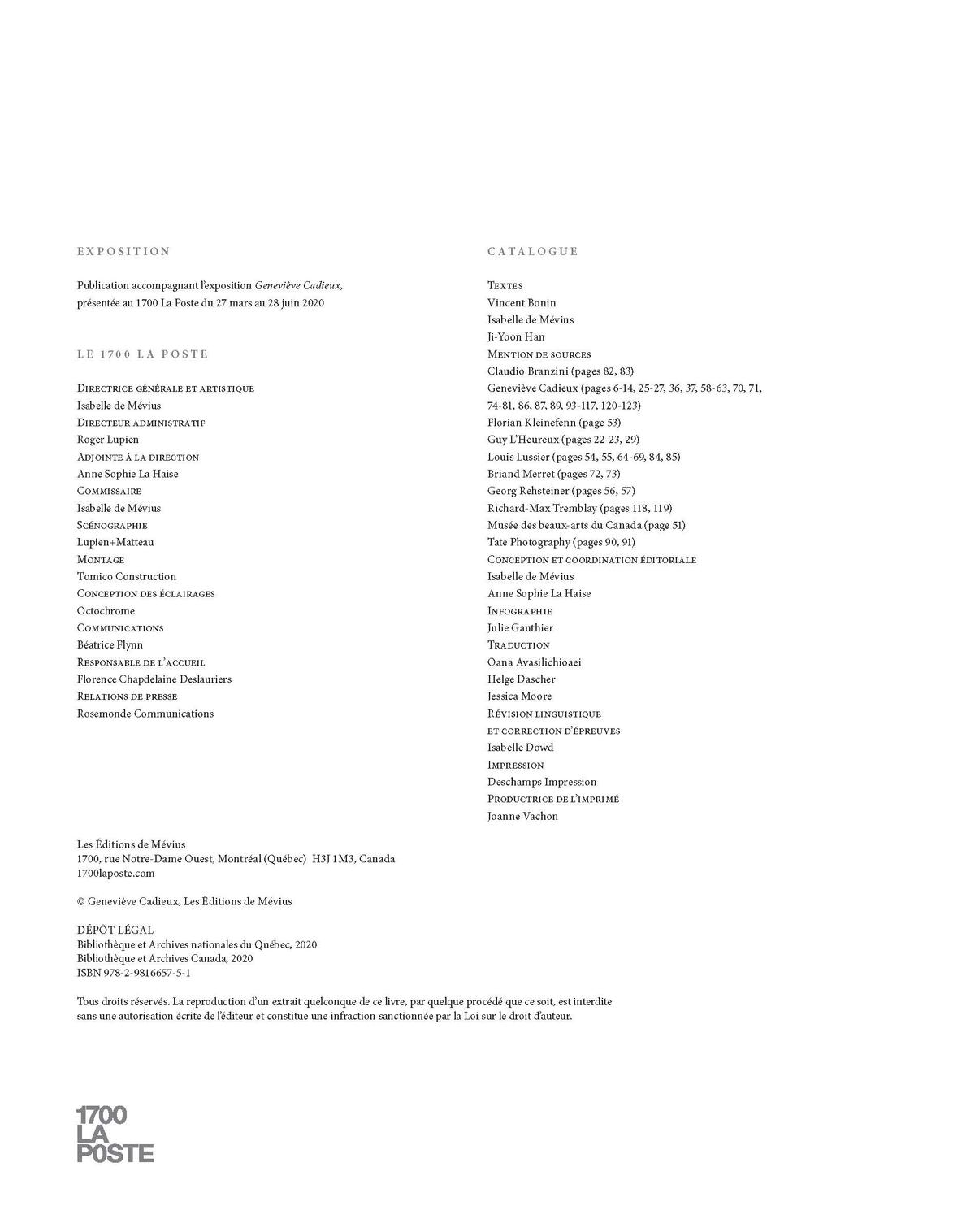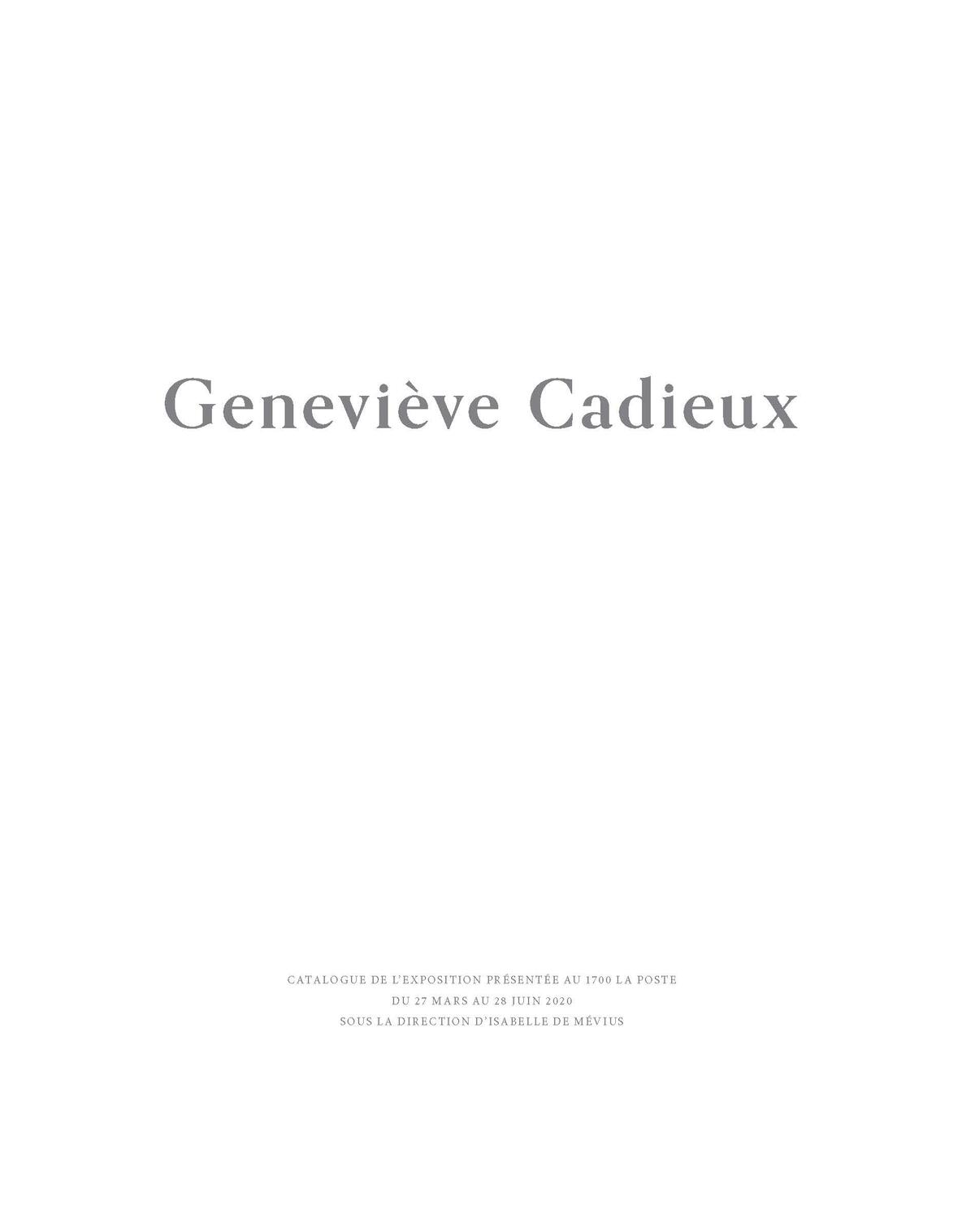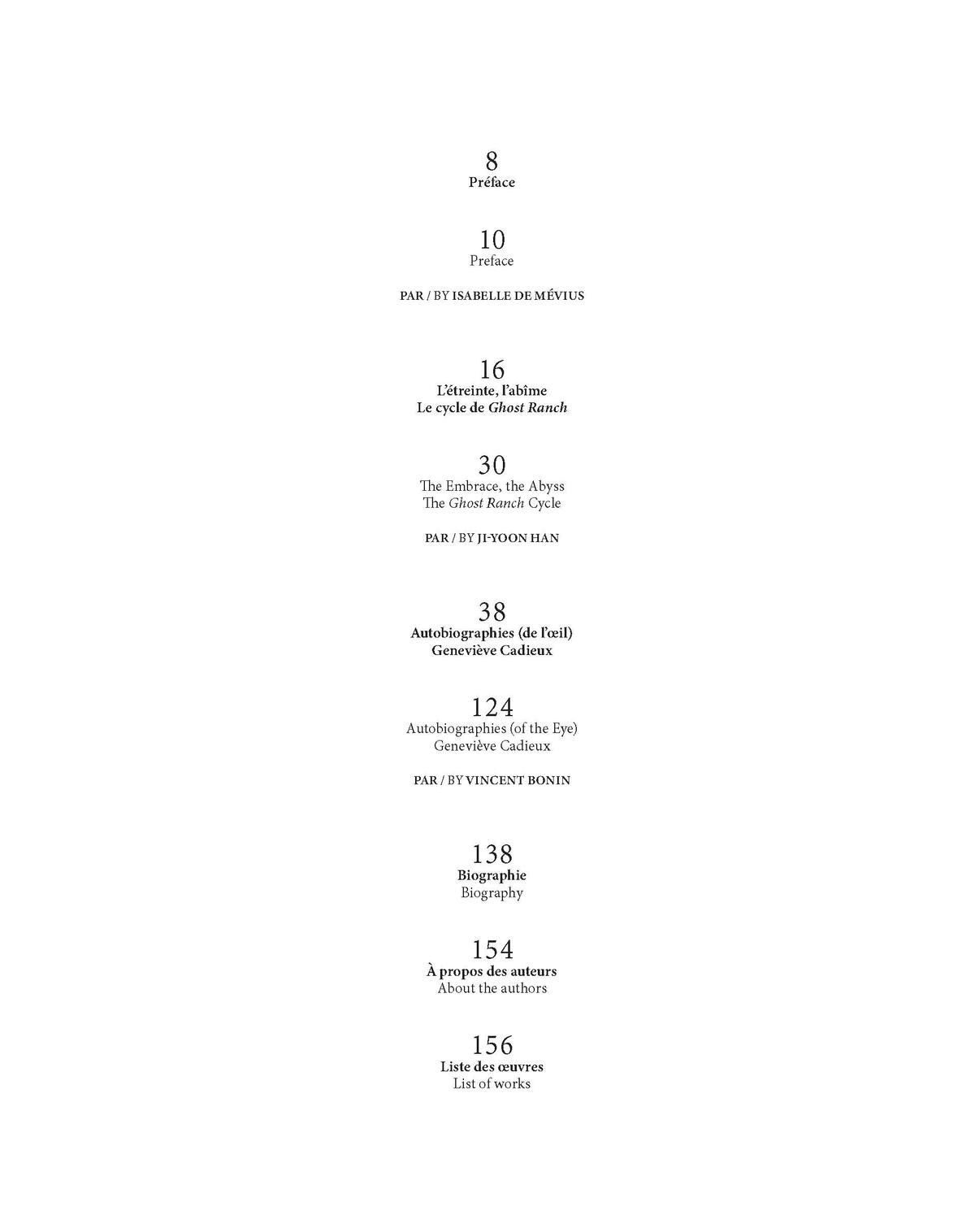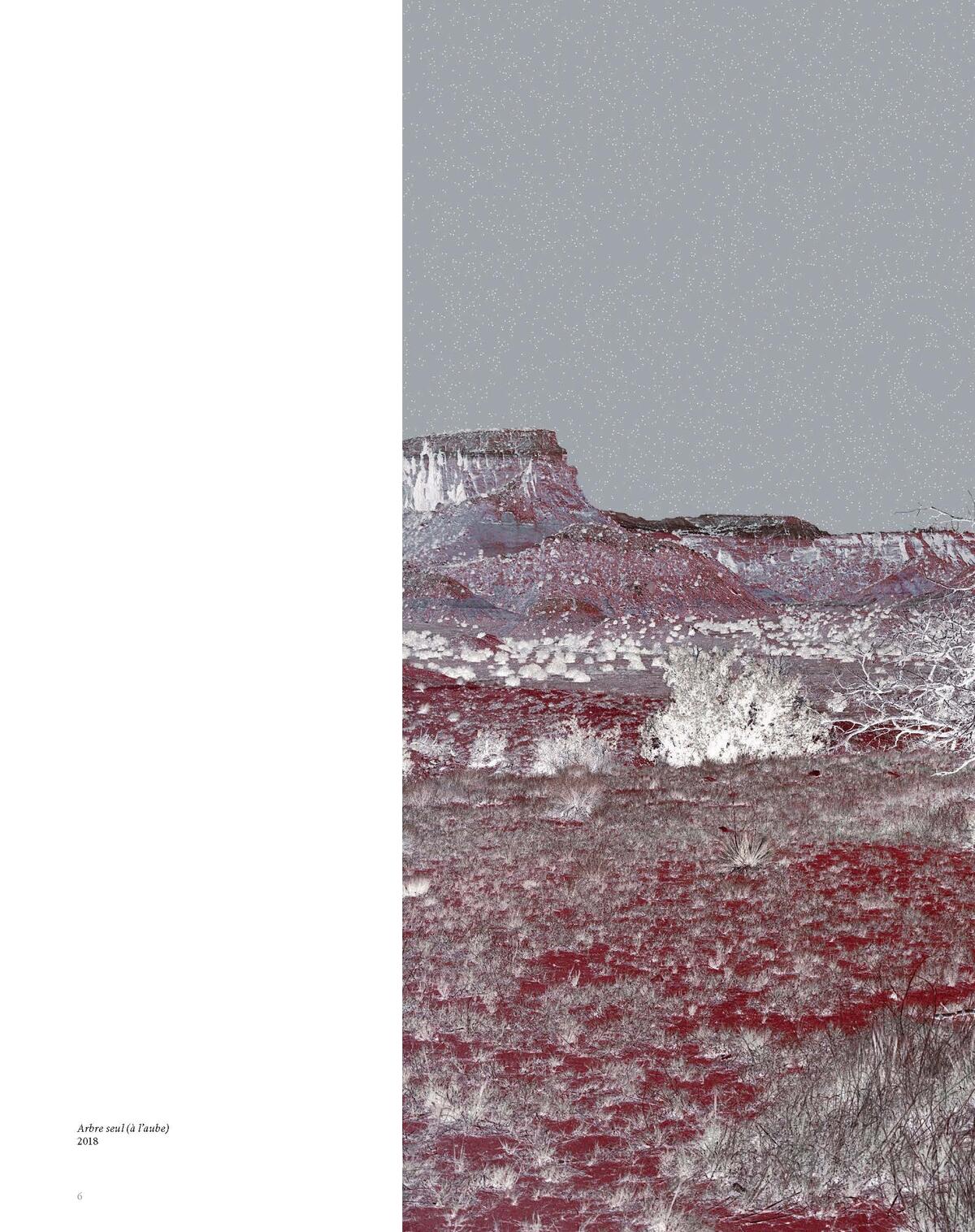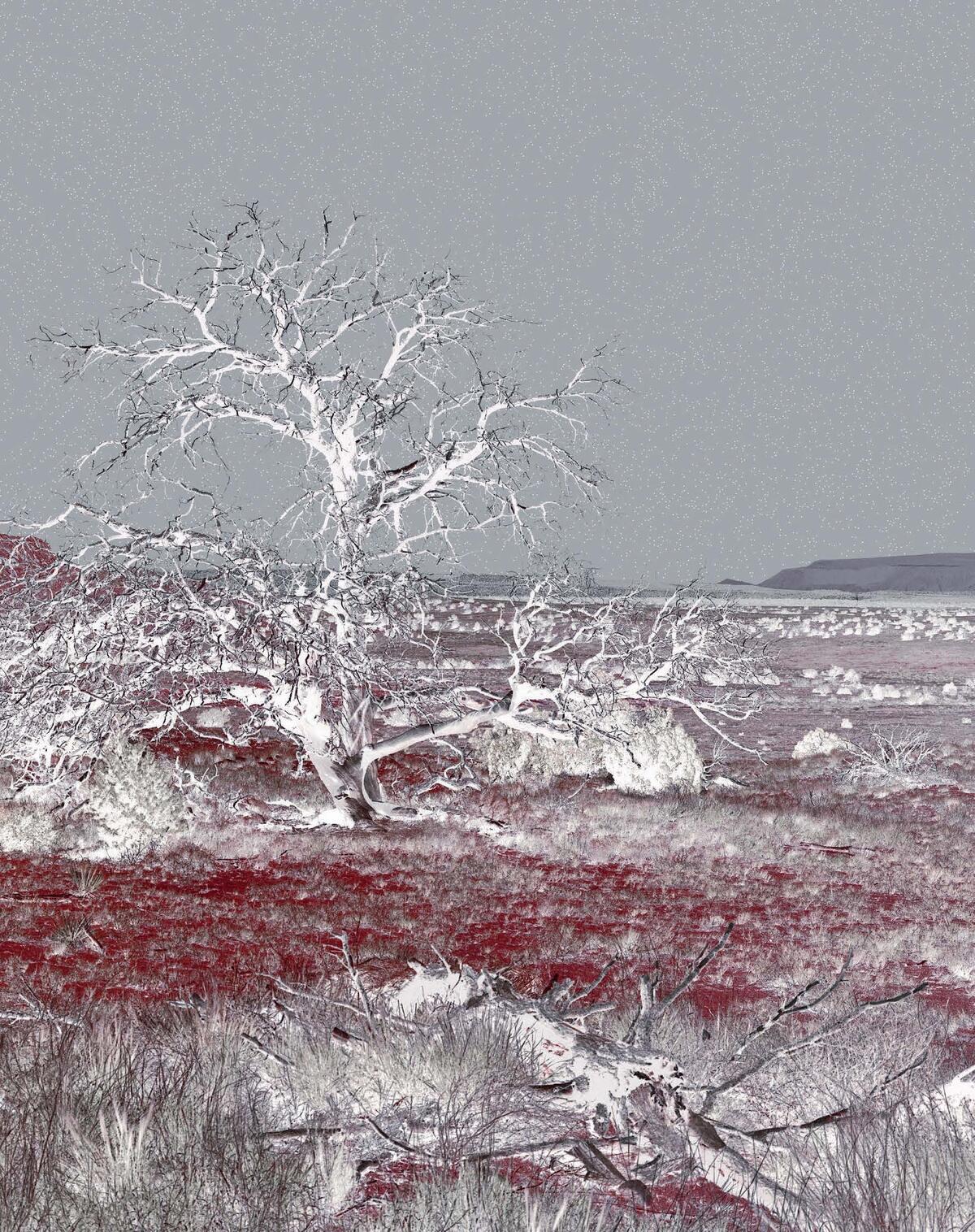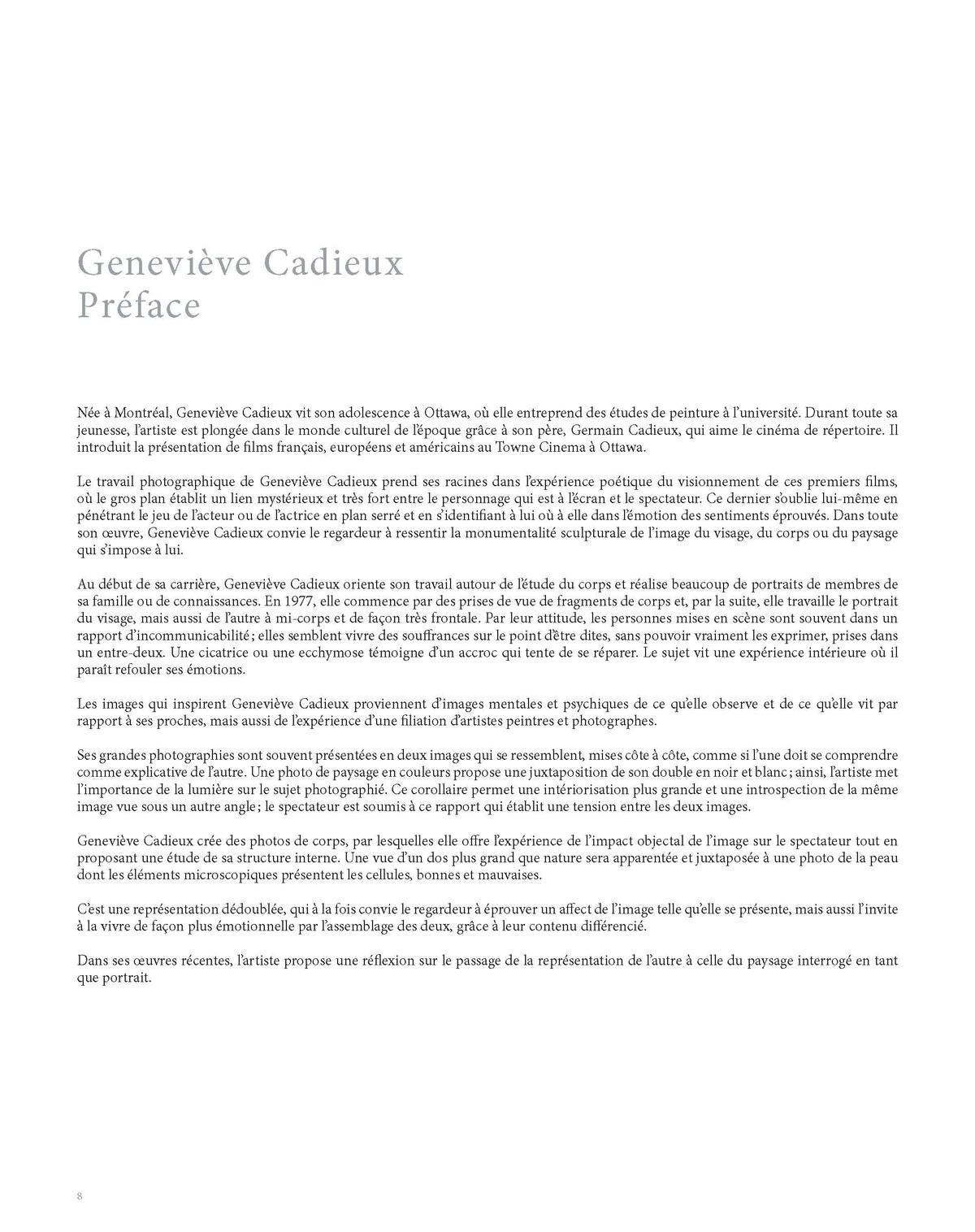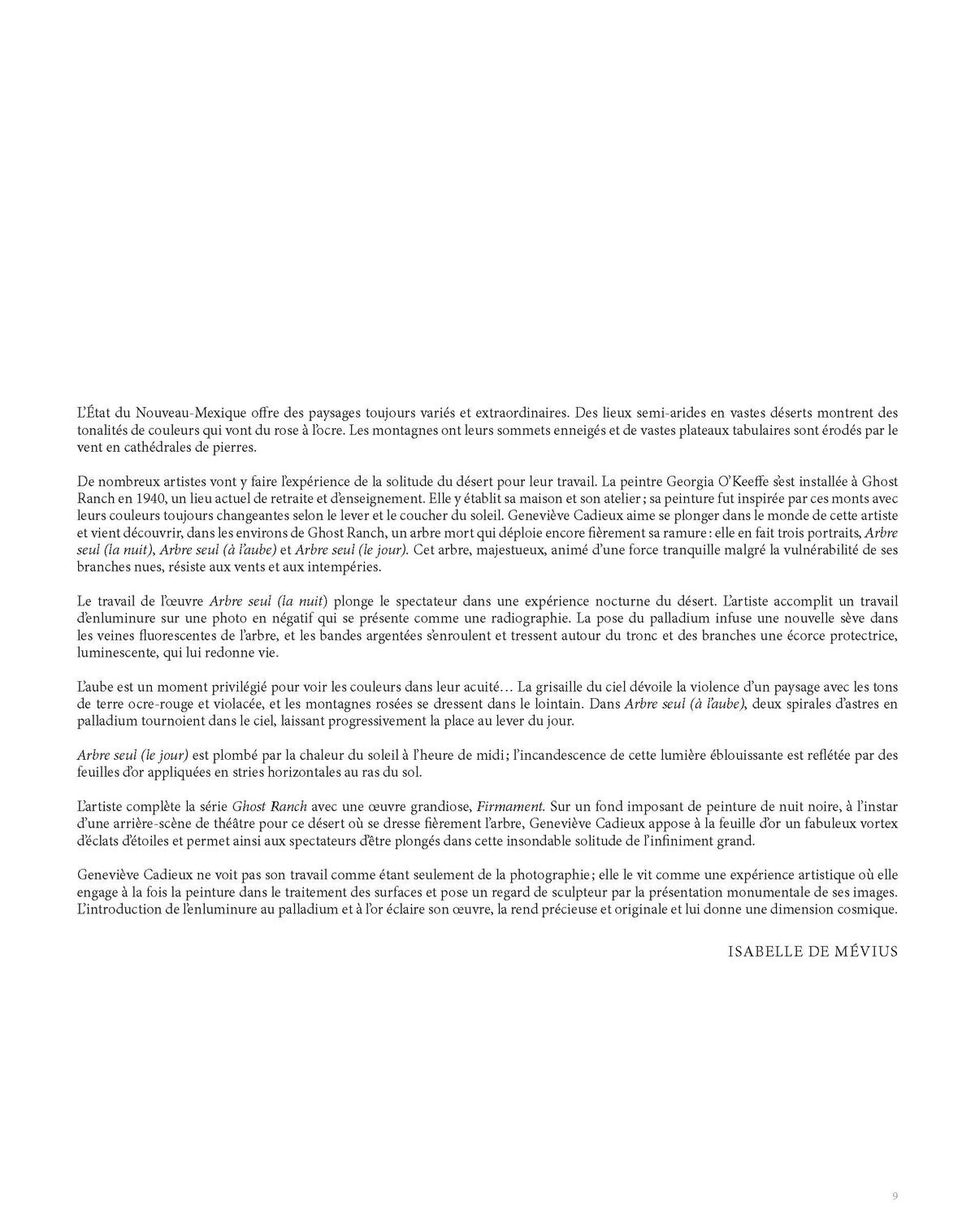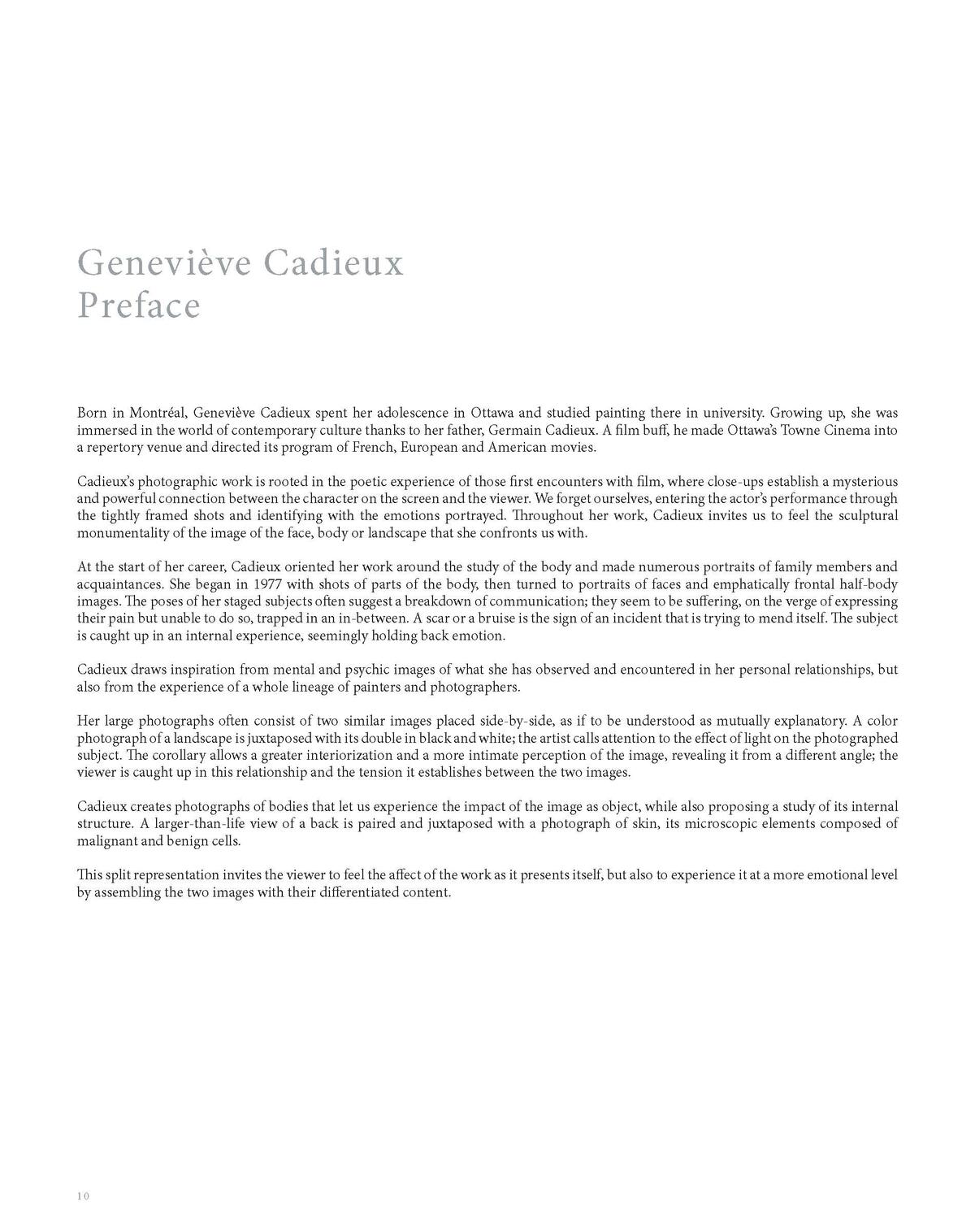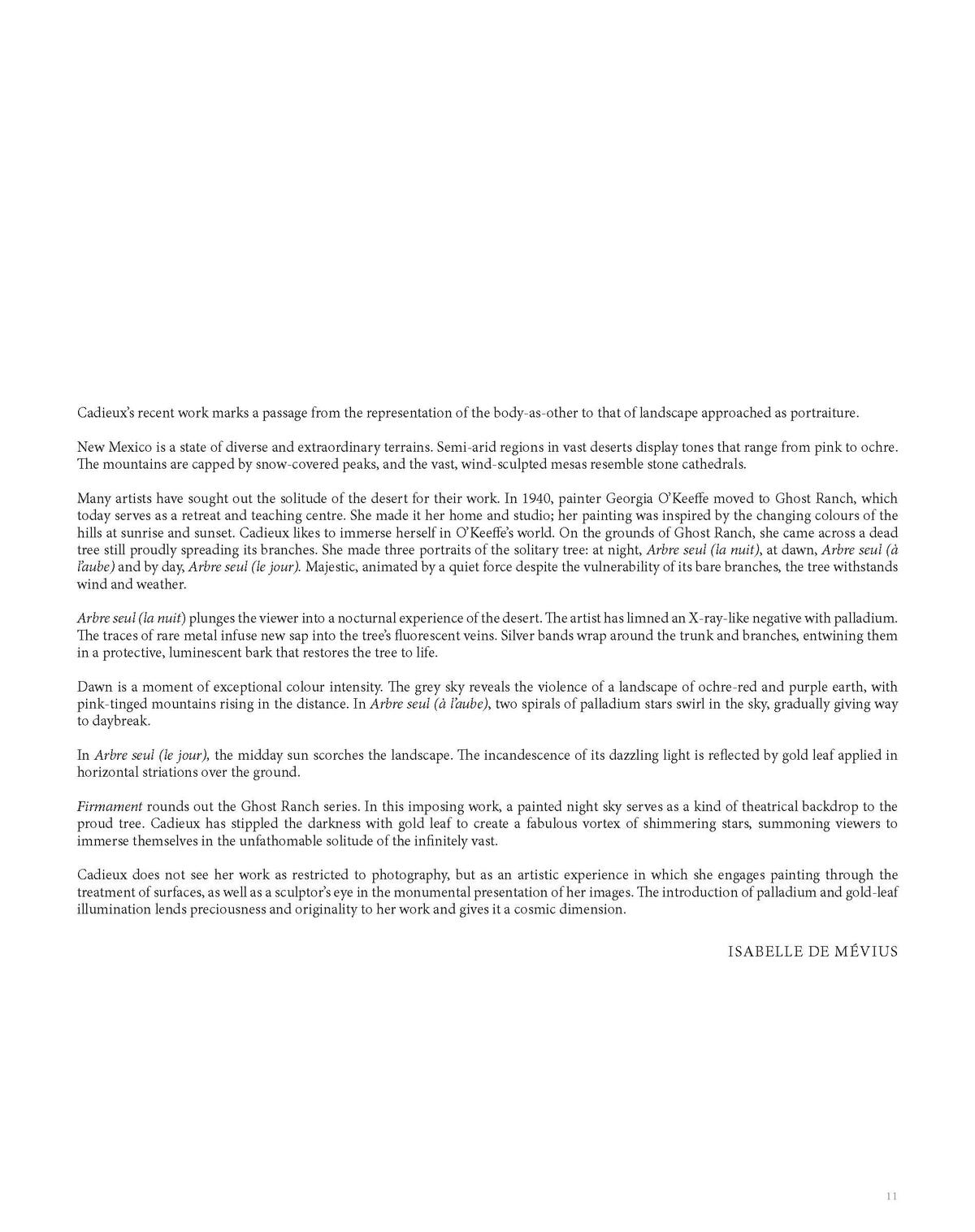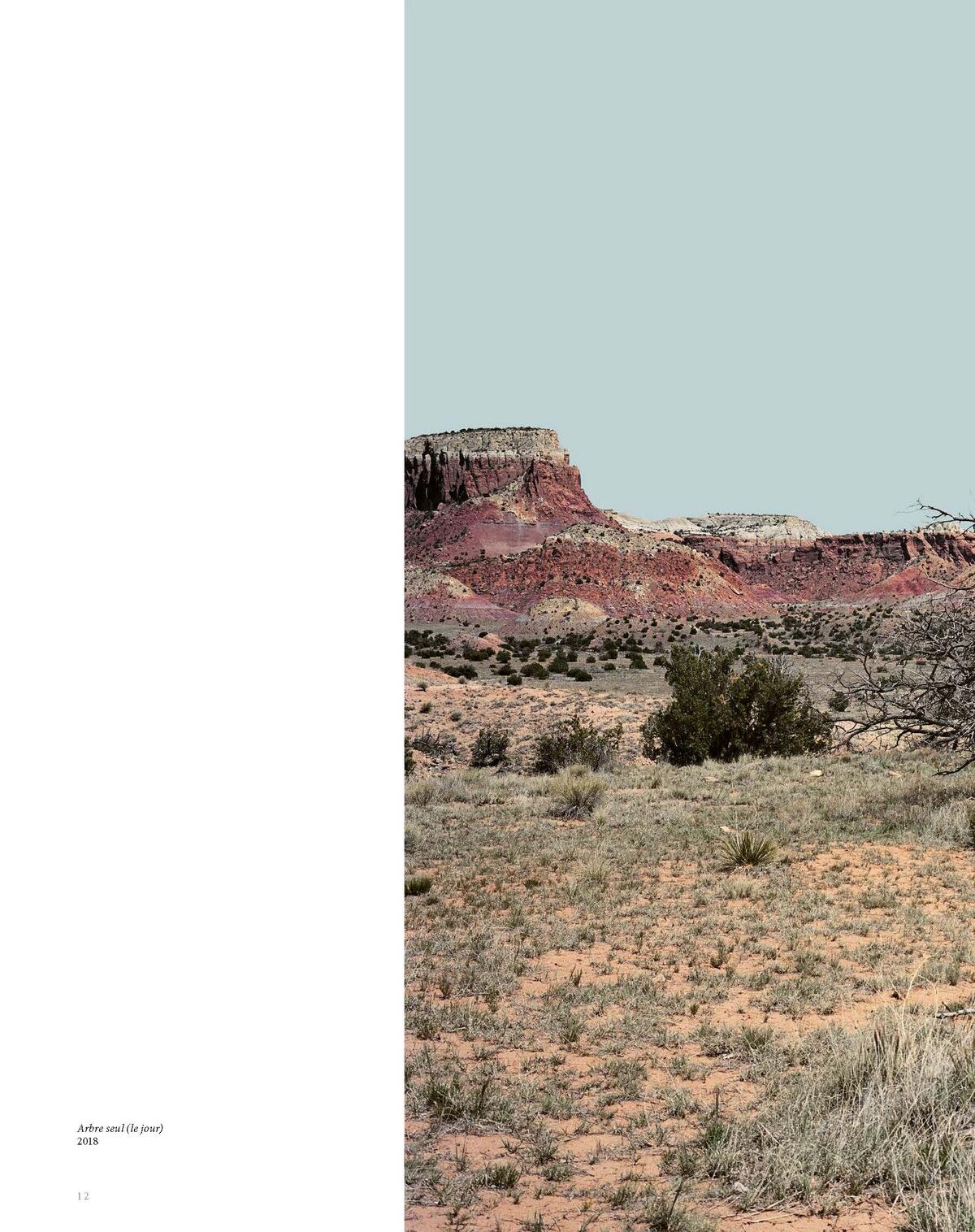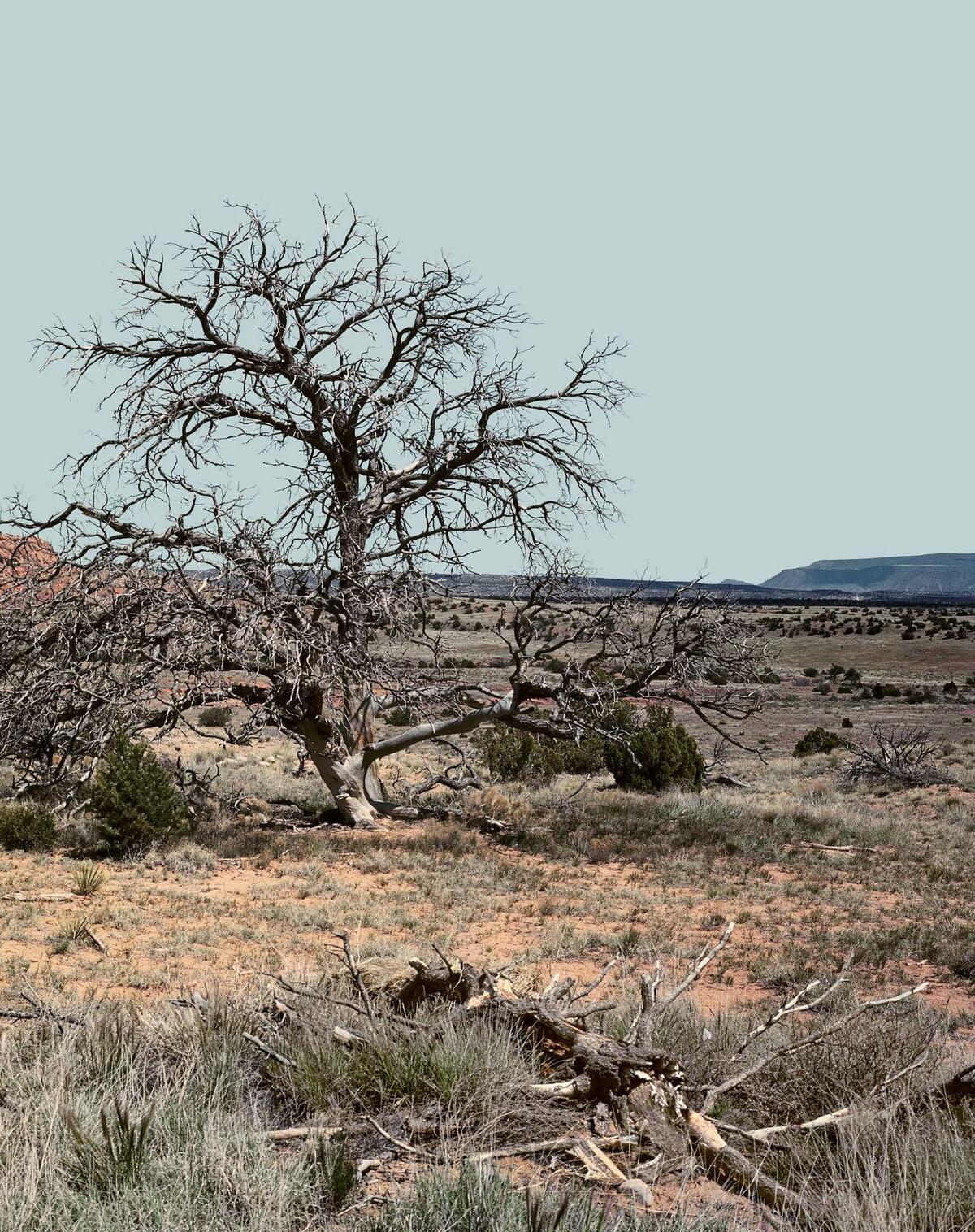 This monograph features texts by Isabelle de Mévius, Vincent Bonin and Ji-Yoon Han.
Publication
2020
Format
10po x 12,25 po x 1 po
ISBN
978-2-9816657-5-1
Bookbinding
Hardcover
Collection
Art and essays
Number of pages
160
Authors
Isabelle de Mévius, Vincent Bonin, Ji-Yoon Han
Photography
Claudio Branzini, Geneviève Cadieux, Florian Kleinefenn, Guy L'Heureux, Louis Lussier, Briand Merret, Georg Rehsteiner, Richard-Max Tremblay, Musée des beaux-arts du Canada, Tate Photography